Burt's Bees Holiday Gift Sets make the perfect holiday gift solution for family, friends, coworkers, teachers and secret Santa gift exchanges. The  2017 Christmas  Burt's Bees Gift Collection contains Burt's Bees time–tested favorites. Not only do they come in great packaging, ready for gift giving, but they are affordable.

Burt's Bees Gift Sets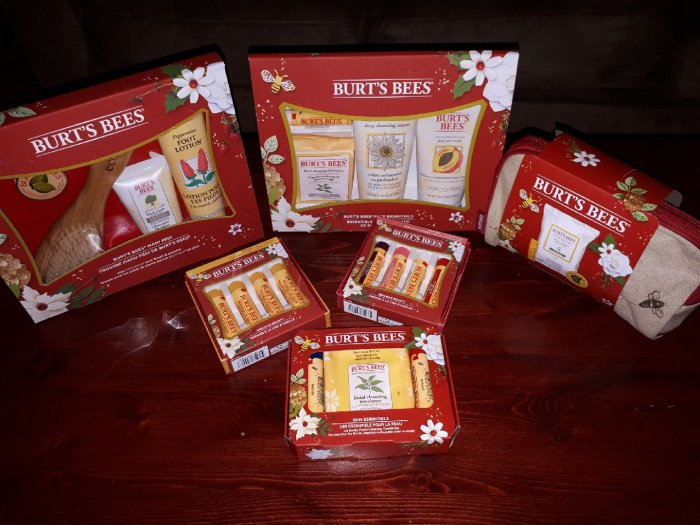 Just because those feet are hidden away in winter boots doesn't mean they should be ignored.  Winter is actually the time of year when ones feet take a beating. Pamper someone special this holiday season with the Burt's Bees Mani Pedi Holiday Gift Set. The set of three amazing Burts Bees favorites includes nourishing rich creams and softening butters for hands and feet. The set also includes a bonus ecoTools foot brush and pumice.
Burt's Bees Skin Essentials gift set: Give a little something to someone special this holiday, with the Burt's Bees Skin Essentials gift set. This gift pack contains Burt's Bees Facial Cleansing Towelettes with White Tea Extract, Burt's Bees Lip Balm, Vanilla Bean, and Burt's Bees Lip Balm, Beeswax. This winter protect and soften skin, and soothe lips with Burts Bees.
Burt's Bees Face Essentials Gift Set: Give the gift of naturally healthy looking and fresh-feeling skin with Burt's Bees Face Essentials Gift Set. This holiday gift set includes natural facial care products to clean and nourish skin to give you, or someone you love, gorgeous, glowing skin.
Travel Essentials: Tis the season to travel.. Wherever the holidays take them, they can go in style with these popular Burt's Bees products. They are conveniently sized (and carry-on friendly). The beautiful canvas bag makes packing a cinch. The set contains: Naturally nourishing Milk & Honey Body Lotion (25g), Mini Lemon Butter Cuticle Cream (8.5g), 10 count Facial cleansing towelettes with White tea Extract, Beeswax Lip Balm (4.25g) and Coconut & Pear Lip Balm (4.25g).
How to get soft lips
The Burt's Bees Beeswax Bounty Fruit Mix Holiday Gift Set contains fresh, fruit balms for everyday lip wear. The pack includes a moisturizing lip balm in Pink Grapefruit, Strawberry, Coconut and Pear and Wild Cherry flavors. Each lip balm is 100% natural and power packed with Beeswax to condition and antioxidant rich vitamin E to richly moisturize and soften dry lips.
Beeswax Bounty Classic: Know someone who can't be parted from their Burt's? They'll love this hydrating, lip-loving gift set.  This gift set contains four convenient tubes of Burt's Bees natural moisturizing beewax lip balm. It makes a great stocking-stuffers — you can split them up or keep them as a pack. 
Burt's Bees Holiday Gift Sets also make for the perfect last minute gift- like when your neighbor brings you an unexpected gift, and you need something quick to reciprocate with!
Now is the time to update their health and skincare products to ensure that their skin is winter ready. While you out finishing up your last minute shopping, don't forget Burt's Bees Holiday Gift Sets.

Website: burtsbees.ca