Bath Time fun with Gelli Baff from Zimpli Kids
As seen in Today's Woman's Christmas Gift Guide

Over the years, I've tried just about everything to make the tub a fun, appealing place for my children.  Of course, I've purchased bath toys, bathtub crayons and crazy foam. I have even tried a silly shower head. On my search for activities to make bath time even more fun I came across Zimpli Kids line of Novelty Bath Time Products. One of Zimpli Kids popular products is Gelli Baff , which is a crazy powder that turns bath water into thick goo.
Gelli Baff play instructions
Fill your bathtub with 40 litres of warm water. It is best if you sprinkle the sachet of goo former evenly over the surface of the water. You then mix it around.  It takes about 10 minutes for the gelli to thicken up completely. You can find the consistency your child(ren) like best by adding more water. If you want it really thick use less water, for thinner goo add more water.
It's important to note that one sachet of Gelli Baff will not make a very deep goo filled baff. If  you want a bathtub full of goo then you may need more than one sachet like I have.
FAQs – Gelli Baff
Gelli Baff is one of the most tested & safe products on the market. The goo itself is completely harmless and even though it is a vibrant color it does not stain carpets, walls or skin.
If you get Gelli Baff in your eyes it could sting, so make sure to rinse it out with plenty of clear water. Similar to shampoo or soap, Gelli Baff does not taste particularly nice, so make sure kids do not put it in their mouth. The goo is quite slippy, so be careful your child(ren) does not stand up in it.
Gelli Baff Clean Up
Add the sachet of goo disolver (which is actually just salt) while your child is still in the tub. Have the water running on warm. You may need to add extra salt to the water as we did to help the gelli dissolve. Gelli Baff is bio degradable and will not cause any harm to your drains.
The clean up, can be a tad messy. Nonetheless, it was totally worth it to see the joy and delight on my daughter's face as she played.
Overall Opinion of Gelli Baff
Overall, Gelli baff is lots of fun, and a great sensory experience.  My daughter had so much fun playing in the goo.  Gelli play can provide an exciting multi-sensory experience that aids cognitive, social, emotional and physical development. Gelli Baff is also great for water trays. Hide things in the goo and watch the kids squirm as they put their hands in to try and find the hidden objects.
Gelli Baff comes in a variation of colours and styles, in both one and two use boxes.  The product is not recommended for children under 5 years of age unless supervised by an adult. Visit zimplikids.com for more information.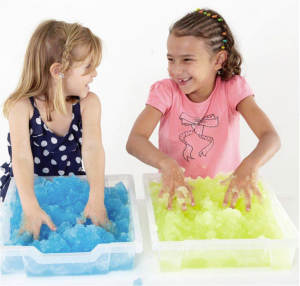 Zimpli Kids has numerous products that would make great stocking stuffers or gifts for the 2016 Christmas season.
New for 2016– Get ready for snowball fights  when there is no snow. Zimpli Kids have taken our ever so popular Gelli Snow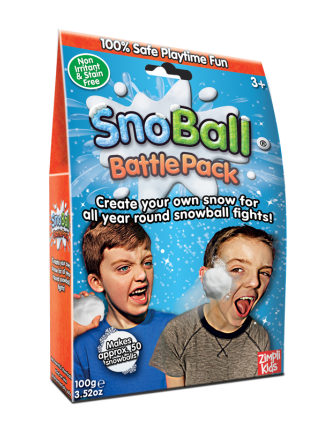 product to the next level with the SnoBall BATTLE PACK! The magic SnoBall formula allows you to make your very own snowballs. Simply add the SnoBall Battle Pack powder to water, and watch it transform into realistic snow. Mould and create your snowballs and get ready for snowball fights all year round! 
About Zimpli Kids
Zimpli Kids designs, manufactures, market and supply's distributors with some of the most unique, innovative and creative children's toy products on the market. As a young, vibrant company, they are always striving to create fun, new products that will enhance both the children's and parent's experience of playtime. Zimpli Kids offers both retail & educational product ranges, which are available through our worldwide distribution partners.