Is there such a thing as a perfect laundry detergent?  I have been a loyal Tide laundry detergent user for as long as I've been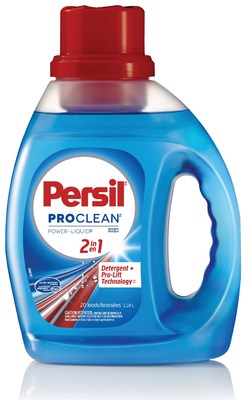 doing my own laundry. Over the years, I've tried different brands of laundry detergent, and have always found myself coming back to Tide.  I will admit that I was skeptical when my husband suggested that we try Persil laundry detergent.
Henkel, the German-based company that manufactures and distributes Persil worldwide, launched four stain-fighting Persil ProClean Power-Liquid detergents in Canada earlier this year, including Original, Intense Fresh, Coldwater, 2in1 as well as Persil ProClean Power Pearls.
How would Persil laundry detergent measure up to Tide?
Laundry Detergent Testing
From my experience, tide detergents have always outperform all the others when it came to removing stuff stains. Having a preschooler she is always getting into something and at times uses her top as a napkin.
I wanted to test out Tide against Persil ProClean Power Liquid 2-in-1, so I grounded coffee, ketchup, mustard and chocolate sauce  into my white Odyssa laundry bag.
Both Persil ProClean Power Liquid 2-in-1  and Tide did pretty well considering the abuse I put the white laundry bag through. It was a close call. Tide did remove all of the ground in coffee, mustard, ketchup and chocolate stain, where Persil ProClean Power Liquid 2-in-1 got most of the stain out.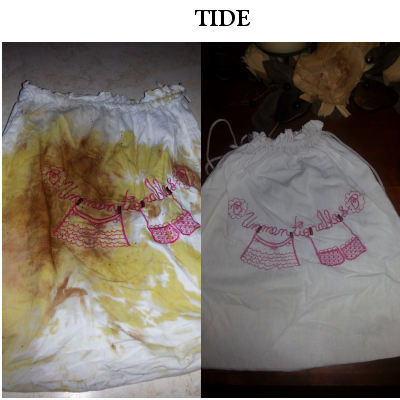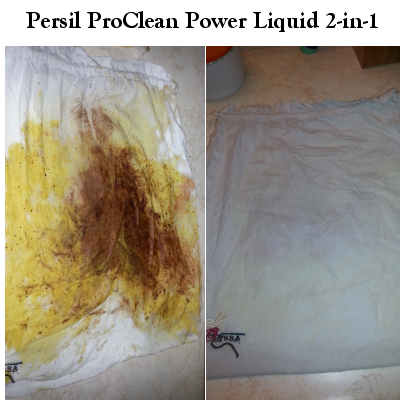 Remove blood stains with Persil laundry detergent
Persil came in on top though beating out Tide Ultra Stain Release on blood stains. I tested Persil ProClean Power Liquid 2-in-1 on a bed sheet that had a two month old blood stain.  The sheet had previously been washed with Tide. To my surprise the blood stain came out completely. I will admit that I was ready to toss the sheet, until my husband suggested that we try Persil ProClean Power Liquid 2-in-1 on it.
Persil ProClean Power-Pearls: New Format, Exceptional Whiteness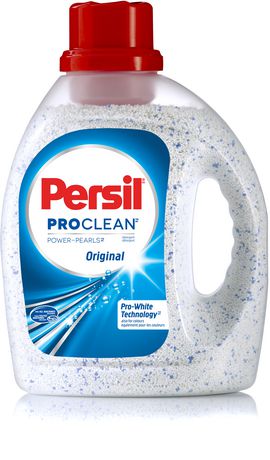 We also tested Persil ProClean Power Pearls. Persil ProClean Power-Pearls is an innovative powder detergent formulated with Pro-White Technology™ for an exceptional clean and dazzling whites that also delivers excellent results for colors. I found that It cleans thoroughly and brightens as well. I also love the fresh smell.
Persil Laundry Detergent- The Final Verdict
Overall, I am very impressed with the new Persil ProClean line!  The Persil line of laundry detergent delivers that clean refreshing feeling you come to expect from your washed clothes. If you are looking for a heavy duty detergent then the new Persil ProClean line is a good option.  Just keep in mind that it may take a couple washes, and you may need to let the detergent sit on the item first.
The liquid formulas are available in 1.18L ($6.99), 2.21L ($12.99) and 4.43L ($19.99) while Persil ProClean Power Pearls detergent is available in 1.26kg bottle ($12.99).
Wrapping up my Tide detergent VS Persil  detergent post: I am happy to report that I will now be using both brands of detergents. It should be noted that both my husband and I found that Persil leaves behind a longer lingering scent than Tide.
Have you already tried the new Persil ProClean line? Do you plan on trying it out? I'd love to hear your thoughts! For more information about Persil ProClean, visit: persilproclean.com
About Henkel
Henkel operates worldwide with leading brands and technologies in three business areas: Laundry & Home Care, Beauty Care and Adhesive Technologies. Founded in 1876, Henkel holds globally leading market positions both in the consumer and industrial businesses with well-known brands such as Persil, Schwarzkopf and Loctite. Henkel employs almost 50,000 people and reported sales of $20.1 billion and adjusted operating profit of $3.2 billion in fiscal 2015. Henkel's preferred shares are listed in the German stock index DAX.
How to Clean Your Smelly Washer
Do you have a front loader? It does appear that regular use of liquid detergents might lead to a stinky washer A solution is to run one wash in hot water, using a powdered detergent at-least once a week. Don't forger to wipe off the gasket and leave the door open between uses.