It's almost the end of April and, before you know it, you will find yourself celebrating the Canadian Tulip Festival, Mother's Day and Victoria Day. If you have yet to purchase mom something for Mother's Day, one place you'll want to head is to your local Hallmark Store. Not only does Hallmark offer 1,100 designs of Mother's Day cards that address the range and relevance of today's modern Moms and families, but they offer a wide selection of gifts for all the special women in your life from your grandma, to your mom, to your new mother-n-law.
Hallmark has introduced a line of charming garden fairies and imaginative fairy garden houses and accessories called Gardenfair! The new Gardenfair collection helps find the magic in the everyday and discover the wonders of the surrounding world with an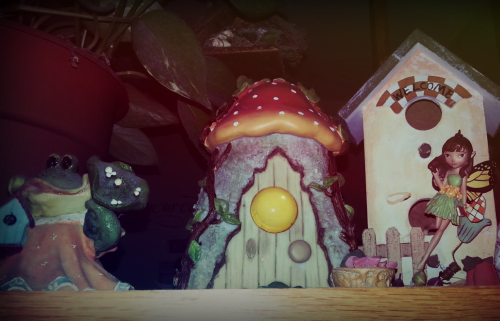 assortment of Fairy Figurines, Garden Décor and Accessories that she is sure to love.
From tree houses to benches, Gardenfair has all the accessories Mom needs to create a magical world for her fairies in nearly any part of her home—inside or out.
Mom can also keep children guessing by moving the fairies from place to place. You can see my "Just Believe fairy" perched next to my bird house.
With butterfly wings, the "Just Believe fairy" is barefoot and ready to tiptoe through Mom's garden. A dress fashioned out of leaves and a floral cummerbund completes her nature-themed ensemble. There are four fairies to choose from and each weather resent fairy comes with a display stand.
Attach this miniature door to a tree base for a backyard wonderland or use it in your indoor garden display. The True Nature Fairy Door Garden Decoration features a mushroom cap front porch, wooden doorstep and leaf doormat.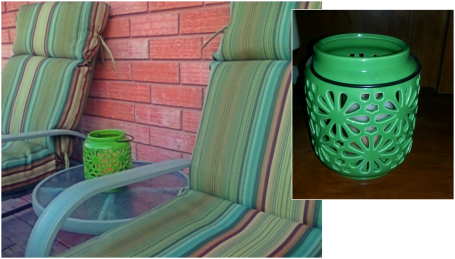 Illuminate mom's backyard deck or patio with these lanterns from Hallmark.
Lanterns are just the right accessories for summer outdoor decor. They instantly add a festive touch and create the right mood for summer evenings.
This lovely ceramic lantern, which is available in cream, blue and green creates an elegant look both indoors and out. They are perfect for hanging or table top use. A flawless led pillar candle fits perfectly inside. (Candle not included).
Mom is the heart of the home and Hallmark Gold Crown stores are full of ways to show appreciation.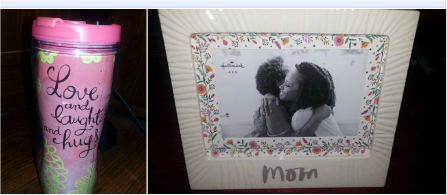 Help capture moments, memories and relationships with a variety of Frames including handcrafted styles, frames for Mom, Nana, Grandma and one for that first Mother's Day.
Mom will love the pretty design and functionality of these tumblers from Hallmark. Designed for both hot and cold beverages, each tumbler holds up to 16 oz, which is about the size of a medium Tim Hortons coffee or Grande Starbucks coffee. I found the tumbler kept my coffee hot for up to an hour, and was the right size for my cup car holder.
These decorative tea towels will add charm to grandma's kitchen. Include one with her favorite tea, and a mug featuring a special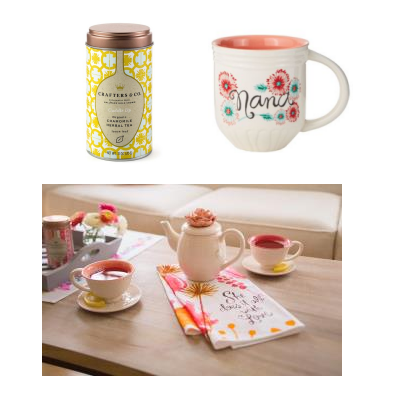 sentiment just for her.
Don't forget the gift wrap. Hallmark carries gift bags, including 'ready-to-go' bags, rolls of wrapping paper and gift card holders – along with coordinating tissues and gift trims an – in springtime patterns and bright colors perfect for Mother's Day.
Looking for more Mother's Day gift ideas? Check all the ways Hallmark can help make Mom's day the best it can be. Also be sure to check out these Mother's Day offers from Hallmark.
What are you giving your Mom for Mother's Day this year?
Here is your chance to win a Be Happy Treasure Box from Hallmark