With Father's Day on Sunday, June 16, the Trail of Painted Ponies wide selection of equine collectibles is the perfect gift for the horse loving man in your life.  Since their introduction in 2001 Santa Fe, New Mexico, the Trail of Painted Ponies model horses have been delighting collectors and art enthusiasts. The original designs were full-sized polyurethane horse figures which were creatively painted by artists. The resulting works of art were then placed on public display at various locales around the state, after which they were auctioned in the fall of 2001 at a charitable fundraiser,. The art project was such a success that it spawned a host of similar Painted Ponies fundraisers in New Mexico and elsewhere.
It also led to a 2010 licensing agreement with Enesco, LLC, whereby Enesco was authorized to produce detailed small-scale reproductions for the collectibles market. Using the horse as a canvas, each Painted Pony in The Trail of Painted Ponies line is an original work of art that tells its own unique story. Each figurine is made of stone resin and comes packed in a box, ready for gift giving. Each Pony is also marked under its base with its name, the name of the artist, the edition number (1E, 2E, 3E,…) and a sequential number in the edition.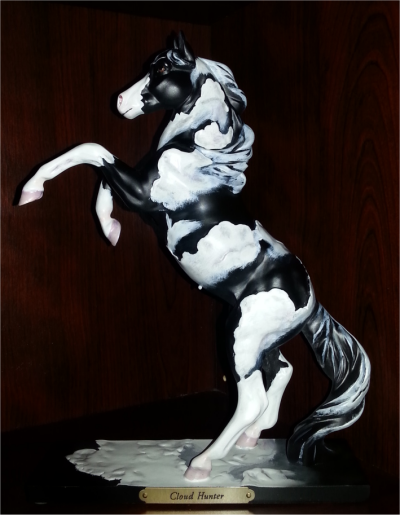 This is the only Painted Pony that we currently own and I must say that Cloud Hunter is a stunning piece with spectacular artistry.  Designed by acclaimed equine artist, Janee Hughes, Cloud Hunter is made of stone resin and measures 10.5″ tall.
This Paint Horse figurine is cast in a rearing pose and intended to a tribute to this popular breed. Typical of the speech of a cowboy, the ways of a bucking horse were referred to in colorfully descriptive terms. When a horse reared wildly and vaulted upwards, mane flying and hooves flailing as if it intended to go up and up into the sky, it was called a "cloud hunter." By making the horse a Paint whose spots take on the appearance of thunderclouds, Janee has added another layer of meaning to the old horseman's saying. A longtime horse lover, Janee says the beauty and remarkable character of horses helps inspire her equine work. To learn more about the APHA please visit: www.apha.com.  To learn more about Janee, you can visit http://janeehughes.ipnshosting.com.
This beautiful pony would make a great addition to any horse lover's collection. The detail is pretty amazing. It is truly a gorgeous decorative conversational piece and my husband was so excited to add it among his animal figurines collection.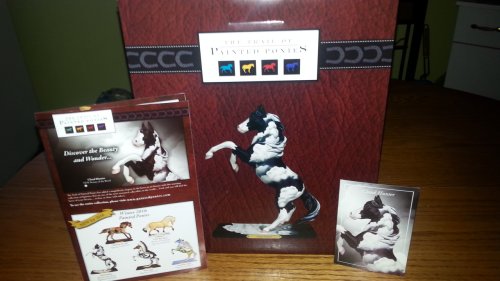 I hope to add " Blood Brothers, "Trail of Tears" and "Stand By Me" to my husband's collection next. There are way to many wonderful pony stories to share,  but we have chosen a few of our favorites- hand picked for Dad this upcoming Father's Day.

War Eagle by Kevin Kilhoffer- "Native Americans felt a kinship with all animals, but held eagles, hawks, owls and other birds of prey in especially high esteem because their vision, swiftness and fearless courage typified the qualities a warrior needed to be successful. The golden eagle, often referred to by Plains Indians as the "war eagle" because of its willingness to go after game larger than itself – fox, coyote, sheep – was believed to be the most powerful of all creatures in the animal kingdom, which is why its feathers were incorporated into the headdresses and war bonnets worn by chiefs as they rode into battle."
The Night's Watch by Vince Slate – "Not only did the horse give a tribe increased mobility, it could also be a "guardian of the night," alerting members to the presence of dangerous, nocturnal predators. The approach of bears and wolves in search of prey would often evoke snorting, kicking and rearing, which would wake sleeping men, women and children. With this in mind, this Phoenix, Arizona artist imagined a Painted Pony as a talisman whose powers were told by native depictions of the wolf and bear etched into the hair on his sides, and would constitute a protective force against night attacks from anything at any time."
Photo Finish by Janee Hughes- "In the fast-paced world of horse racing, a "photo finish" depicts a race in which two or more horses cross the finish line separated by a nose. This dramatic moment is captured in "Photo Finish," as three horses sprint to the finish line in a race too close to call… the final winner to be determined by a photograph."
Need help finding the perfect Painted Pony? Take a look at the entire Trail of Painted Ponies. Collecting Trail of Painted Ponies model horses is the perfect hobby for anyone looking to invest in beautiful works of art.
About The Trail of Painted Ponies
The Trail of Painted Ponies is one of the premier fine art and collectibles companies in the world, crafting one of the most treasured collectibles in America, Painted Ponies figurines. Born and bred in Santa Fe, The Trail of Painted Ponies stampeded into the artistic landscape as a public art project that dazzled spectators throughout New Mexico, the Land of Enchantment. The Trail of Painted Ponies is celebrating 13 years of horses in art and this extraordinary brand is synonymous with artistry, quality, craftsmanship and its philanthropic commitment.
About Artist Janee Hughes
After graduating from Willamette University with a BA in art, Janee taught in Junior High School for thirty years. When she retired in 1997, she began a fine art career, painting and writing, winning awards and building a reputation. Her paintings are usually realistic and involve animals, and she works in pencil, pen, watercolor, acrylic and oil. Her artwork has graced the covers of numerous magazines, she has illustrated three children's books, and her cartoons have been published in newspapers. She was the lead painter on the Salem Riverfront Carousel, an authentic, hand-carved and painted carousel, and in her spare time can be found hiking with her dogs and husband.
About Enesco, LLC.
Enesco, LLC, is a global leader in the giftware and home and garden décor industries. Serving more than 44,000 customers worldwide, Enesco distributes products to a wide variety of specialty card and gift retailers, home décor boutiques, mass-market chains and direct mail retailers. With subsidiaries in the United Kingdom, France, Canada and Hong Kong, Enesco serves markets operating in Europe, the Americas, Australia and Asia. The company's product lines include some of the world's most recognized brands including Heartwood Creek® by Jim Shore, Foundations®, Our Name is Mud®, Gund®, Boyds®, Country Artists®, Walt Disney Classics Collection®, Disney Traditions™, Border Fine Arts ™, Cherished Teddies®, Bilston & Battersea Enamels®, and Lilliput Lane®, among others. Further information is available on the company's Web site at www.enesco.com.