Just hear those sleigh bells jingling, Ring-ting-tingling too, Come on, it's lovely weather for a sleigh ride together with you, Outside the snow is falling and friends are calling, "YOO HOO! If you are not already in the holiday spirit making your home festival for the holidays with holiday products from Hallmark will hopefully have you singing a tune. Hallmark has a variety of unique collections of holiday products to help strengthen and share traditions like decorating homes, baking treats and building anticipation as we count down the days until Christmas. Check out the Hallmark Holiday 2016 collection.
Hallmark Holiday Cards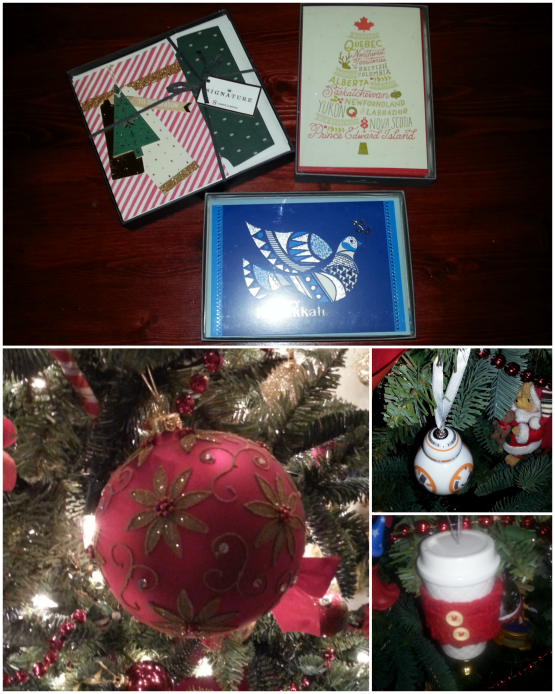 For all of his 91 years, Joyce "J.C." Hall cared enough to send his very best. In 1915, Joyce along with his brothers created Hallmark for the purpose of marketing and selling greeting cards. In 1954, Americans sent 2 billion Christmas cards as a personal and heartfelt way of saying Merry Christmas or Happy Holidays.
Today, Hallmark is the largest greeting card company in the world. This holiday season send unique, stylish Christmas cards from Hallmark and it is sure to stand out from other holiday cards on the mantel, desk or wherever they display them.
This exclusive collection of cards celebrates Canada through artworks that illuminate our country's magnificent landscapes, traditional winter activities and treasured national icons.Each box features 16 cards (one design) with envelopes.
Diagonal red and white candy cane stripes with glitter ribbon embellishment accent these classic Hallmark Signature Christmas cards. Detachable Christmas tree ornament will add a little sparkle to the tree or another spot in your home. Card sentiment sends a wish to your family and friends to "enjoy every merry minute."
This intricately designed 3-D card is more than just a holiday greeting because it also opens up into a displayable decoration for an entire season full of enjoyment. This innovative card is the perfect pick for all of the names on your Christmas card list.
Hallmark Christmas Decorations
Without a doubt, the Christmas tree is the highlight and the center point of our holiday festivities. With holiday music playing the background, we spend hours decorating it just right. Your tree deserves to get decked out in sparkly decorations. Invite the beauty of the season into your home with red matte poinsettia ball ornament. It sparkles with bright gold glitter, beads, and other embellishments, making it a beautiful accessory for your Christmas tree. Heritage Glass Ball Ornaments also make beautiful Christmas and holiday gifts to share with loved ones.
This porcelain ornament with knitted cozy sweater is a fitting decoration for the coffee lover in your life. Hallmark also offers us Christmas tree ornaments featuring current characters like The Force Awakens BB-8 and Frozen's Elsa.
Hallmark Holiday Decor stockings & accessories for Christmas
On this cold blustery day all I want to do is snuggle up in my husband's lazy-boy. Of course I want to be wrapped in this big beautiful cozy blanket, that features an image of a smiling snowman, a cardinal and a fox in a snowy forest. It provides just the right amount warm and comfort as I sip my peppermint tea and watch Mirracle on 34th street.
With it snowing outside a candle makes both the temperature and the mood of my living room warmer and more welcoming. A pillar candle works best when lit in a Hallmark snowflake candle holder. The rich gold interior of the candle holder adds to my festive winter ambience. Snowflake Candle Holders come in two sizes and retail for $16.95 and $19.95.
Hallmark Holiday Gift Giving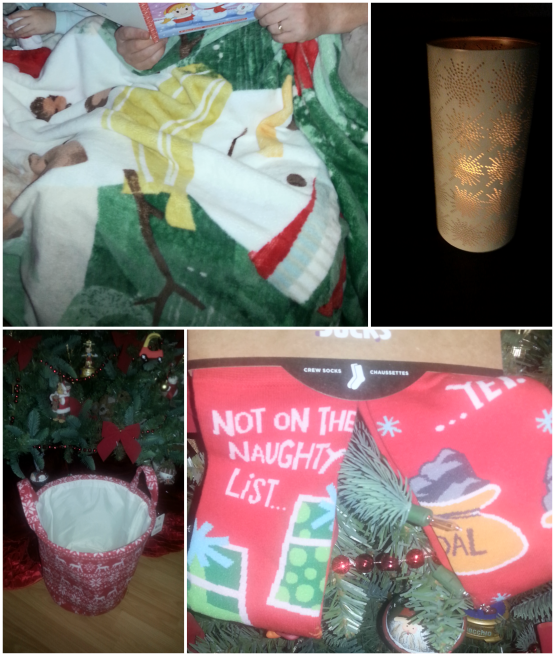 Hallmark knows how to get us into the holidays spirit , offering many creative ideas for gift giving.
This beautiful, reusable handled tote makes the perfect gift and place holder for my DIY coffee/tea gift basket that I am making my son & his wife for Christmas. The knit Nordic design features a reindeer and snowflake pattern for a striking seasonal statement.
The guest towel wire basket and 16 designed paper guest towels make a cute little hostess present or you can use it for holiday entertaining.
Dog lovers will enjoy this preppy little memo pad. It's cut in the shape of a Christmas ornament and decorated with a black Scottie dog in a red and white polka dot scarf. It makes the perfect stocking-stuffer.
In the meantime, wear these fun socks to let everyone know you're not on the naughty list this Christmas- yet anyway. They too make for a great stocking stuffer.
Hallmark Gift Wrapping
Gift wrap and accessories are available to wrap up the season with flair. Aflix gift tags to your presents to add pizazz. Hallmark has more than 100 Holiday gift bag available in small, medium, large, x-large, grand, and jumbo and bottle bags with tags. Attach honeycomb, snowman characters to your Christmas gift bags or boxes.
Hallmark Gifts for Kids
Frosty Friends Shivering Polar Bear is an adorable plush toy. He's super soft and comes with a festive red scarf. Rub noses or give this little cutie a hug and he will shiver and make darling little noises. Comes with 3 AA batteries.
Children all over the world have already made their wish list hoping that Santa Claus will stuff their stockings with the top toys. But how many children know the story of the first Christmas – the night Jesus was born? One of the best ways to teach your children about the birth of Jesus Christ is with a nativity set. If you are looking for a nativity scenes that your toddler can't destroy, might we recommend the itty bittys® Nativity Set.
Christmas Books

Hallmark believes that story time is special and offers a variety of storybooks for children that help elevate the experience. With only 7 days until Christmas the most beloved snowman comes to life in this rhyming retelling of the classic holiday special Frosty The Snowman. Your kids will delight as you read the story aloud. There is even an exclusive itty bitty plush frosty to join along in the fun.
In addition to new itty bittys book bundles and ornaments, new holiday characters are available including Hello Kitty and Barbie.
What book will read to your children Christmas Eve? Will it be Rudolph the Red-Nosed Reindeer, or A Charlie Brown Christmas? For me, a Charlie Brown Christmas' remains timeless and I am happy I am able to share the story with my daughter.
"Sure, Charlie Brown, I can tell you what Christmas is all about. Lights, please:"
'And there were in the same country shepherds abiding in the field, keeping watch over their flock by night. And lo, the angel of the Lord came upon them, and the glory of the Lord shone round about them: and they were afraid. And, the angel said …Fear not: for behold, I bring unto you good tidings of great joy, which shall be to all people. For unto you is born this day in the City of David a Savior, which is Christ the Lord. And, this shall be a sign unto you: Ye shall find the babe wrapped in swaddling clothes, lying in a manger…suddenly, there was with the angel a multitude of the heavenly host, praising God…Glory to God in the highest, and on earth peace, good will toward men.' That's what Christmas is all about, Charlie Brown."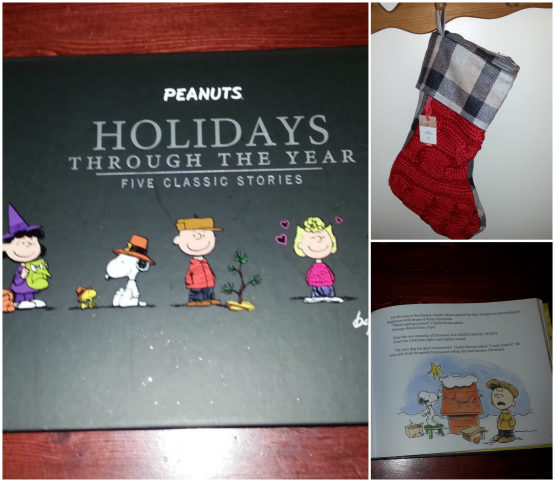 Featuring Charlie brown and the gang Peanuts Holidays Through the Year Book contains five classic Peanuts stories:
A Charlie Brown Christmas, Be My Valentine, Charlie Brown, It's the Great Pumpkin, Charlie Brown, A Charlie Brown Thanksgiving and It's the Easter Beagle, Charlie Brown. This is a timeless book children will enjoy year after year, holiday after holiday.
Once the tree is decorated, the Christmas shopping is done and presents are wrapped it is time to hang the stockings. I adore the look of the knit Christmas stockings from Hallmark. They add a bit of rustic charm to hang along the mantel, fireplace or wherever you hang your stockings.
We hope you have liked the Hallmark Holiday 2016 collection. These products and more are available at Hallmark Gold Crown® stores nationwide, and participating Hallmark retailers. Here is hoping you have a Very Merry Christmas.
Peanuts Holidays Through the Year Book Giveaway
To help make your Christmas Merry one lucky today's woman reader is going to win a Peanuts Holidays Through the Year Book. Enter below!