Like 8 track tapes, it appears the days of the Audio Cassettes are all, but gone. Though the cassette tape may be gone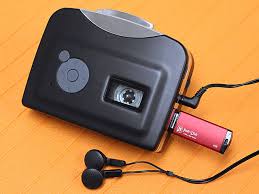 dead, there are still many of us who have them lying around the house. Many of these tapes contain content you just can't get in digital format. If you still have cassette tapes lying around the house, then this next gift idea is for you. The Ezcap230 Cassette Tape to Mp3 Convertor allows you to recover the audio on your tapes by transferring them to your computer.
You can then covert them into a digital format. It's super easy to do. The Ezcap230 looks like a Walkman. If you don't know what a Walkman is, ask your parents.
In the box, you receive a set of earphones, the player, 36-inch power cable, and instructions. The converter has no internal battery and runs off 2 AA batteries or you can use the power cable. On the top of the converter you have a play button, stop button, fast forward, rewind and a loop switch that will automatically switch to the other side of the tape and a direction button to switch from one side of the tape to the other.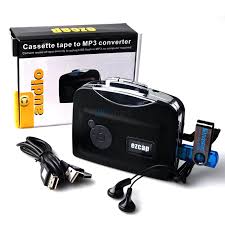 On the right side you have the analog control wheel, USB port, headphone port and eject slider. Pull the slider down and the cassette door opens. You can also use this as a reg cassette player without converting any files. You can hook up a speaker to the auxiliary port on the Ezcap230 and hit play to listen to music right from the device. It is small and super compact making it great for on the go.
The Ezcap230 Cassette Tape to Mp3 Convertor is fairly straightforward to use. You back up all your MP3 files to a flash drive or an external drive if you wish. Simply plug your device of choice into the USB port on the side of the Ezcap230. When the indicator light is green it is ready to record. The converter has an auto mode that can determine breaks in songs and split them into separate files. Press the record button on the back and the play button on the top and it will start converting your songs to mp3. On the back, you have playback controls to play the converted mp3s. It's that simple.
Once you have loaded your song(s) onto the flash drive, you unplug the flash drive from the cable and plug it into a USB slot in your computer and transfer the MP3 file to wherever you store your music.
Keep in mind if you have an hour long tape, it will take an hour to covert. You can also burn the music to CD, sync it to a Smartphone, upload it to the internet or transfer it to your mp3 player.
The Ezcap230 Cassette Tape to Mp3 Convertor would make a great gift this holiday season and is available for purchase at https://usb.brando.com/