Kiss Naturals Diy Kits are a great holiday gift or a way for your child to make DIY gifts for friends and relatives.
The Kiss Naturals lip balm kit comes with everything you need to make 6 flavored lip balms. They suggested age for Kiss Naturals is 6 and up, though kids as young as 4 will have no problem with this this craft with proper supervision.
My daughter worked through this craft with enjoyment and ease. The craft kit includes a 60ml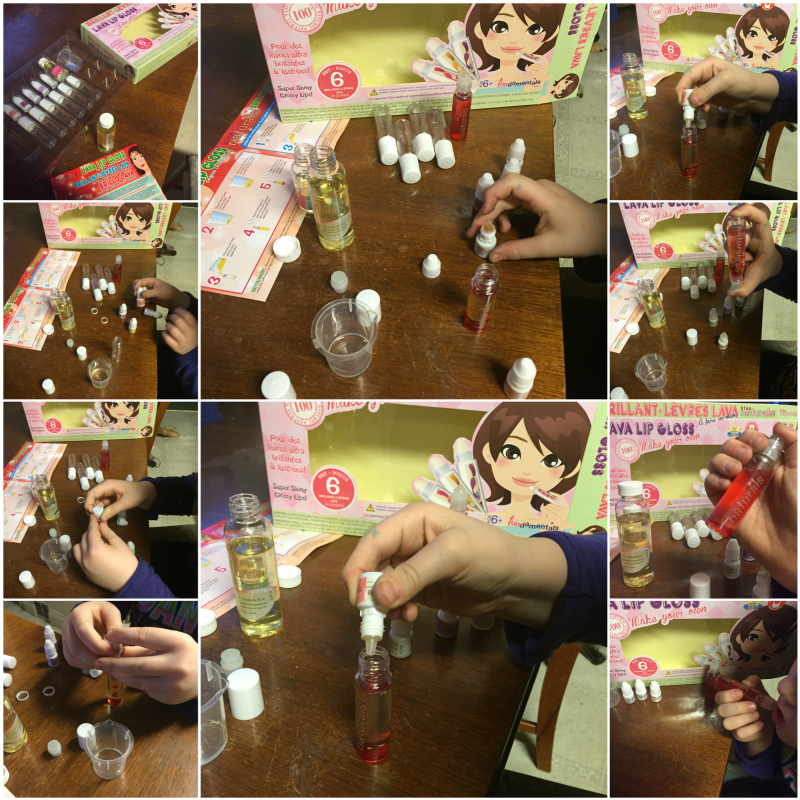 bottle of Castor Oil, a 30ml of Safflower Oil, 3 2ml bottles of colorant, 2 2ml bottles of flavoring, a small measuring cup, and 6 lip-gloss applicators.
Before you start filling the applicators, remove the cap and roller ball applicator. Using the included measuring cup, pour 5ml of Castor Oil and 5ml of Safflower Oil. The measuring cup should read about 10ml total. Then pour those oils into the lip gloss applicator. Next add approximately 30-40 drops of the coloured glycerine directly into the applicator. The included colours are purple, pink and yellow.
You can either drop a single colour or choose to mix the colours. We mixed the yellow and pink to make a beautiful strawberry colour. Next, add approximately 5-10 drops directly into the lip gloss applicator. The included flavours are Boysenberry and Bubble Gum. Both flavours actually taste fantastic. Lastly, replace the rolling ball and cap to the top of the lip gloss applicator and shake vigorously. That is it!
The gloss does not actually homogenize, so it must be shaken before each usage. It actually looks quite neat when it separates. The colorant almost forms small bubble within the oil.
My thoughts
The thing that I really love about Kiss Naturals is that not only do the craft kits include everything you need to make the item, but all the ingredients are natural.  They do not add fillers, additives, dyes or synthetics to any of their products. They don't test their products on animals either. Kiss Naturals discloses all of their ingredients right on the product labels, so that you never are left guessing what might be inside of the products that you are making.
Not only can my daughter has fun making things like home-made hair chalk and lip gloss. And as a mother I don't have to worry about harmful chemicals. And the icing on the cake is that Kiss Naturals products are Canadian made. I feel good supporting a natural Canadian business.
Kiss Naturals are wonderful crafts for children that are created with an all natural recipe. You can feel comfortable letting your children create and use these crafts. These are pure and natural ingredients that you can trust. For natural DIY beauty kits, check out Kiss Naturals today.
Special thanks to Today's Woman founder Rose for introducing me to these wonderful DIY kits.
Website: http://kissnaturals.com/