Fun things to do in Toronto with Kids
Summer is winding down to an end, but no worries, there is still time to make the most of your dwindling vacation time.
I recently visited two Toronto attractions with my two year old daughter and husband. We stayed at Cambridge Suites, which is conveniently located downtown and a 23 min walk to "Ripley's Aquarium of Canada."  If traveling by car it is 9 min from hotel and 15 min from transit.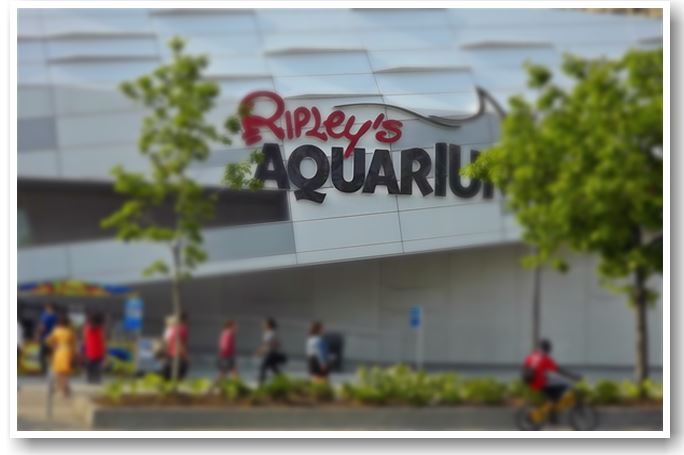 Built in late 2013, Ripley's Aquarium of Canada showcases 16,000 marine animals, 450 different species of fish and

invertebrates; it is Canada's largest indoor aquarium,  holding 5.7 million litres (1.5 million gallons) of water and housing the largest collection of sharks in North America.
The aquarium itself is beautiful, and quite the experience; especially if you are an ocean buff like my husband is. This was the main reason I wanted to visit and was actually on my bucket list. You have a bucket list don't you? If you do, add Ripley's Aquarium of Canada to it!
The aquarium is organized into nine galleries: Canadian Waters, Rainbow Reef, Dangerous Lagoon, Discovery Centre, The Gallery, Ray Bay, Planet Jellies, Life Support Systems and the Shoreline Gallery.
We were very lucky it wasn't that busy when we visited. I can't say I was disappointed because, like you, I despise lineups, especially when traveling with a two year old.  Because Ripley's Aquarium of Canada can be rather busy I strongly recommend purchasing tickets online to avoid long line wait times.
As we entered the facility I paused to appreciate the excellent view into the Discovery Centre on the lower level of the aquarium.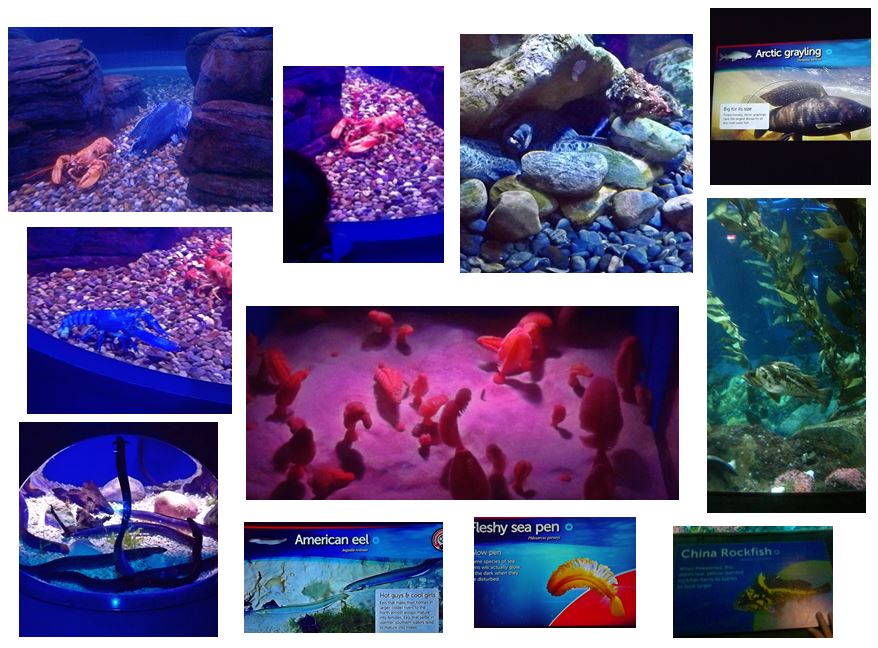 We started our visit at the "Canadian Waters" Gallery. Some of the featured animals were the American Lobster, Giant Pacific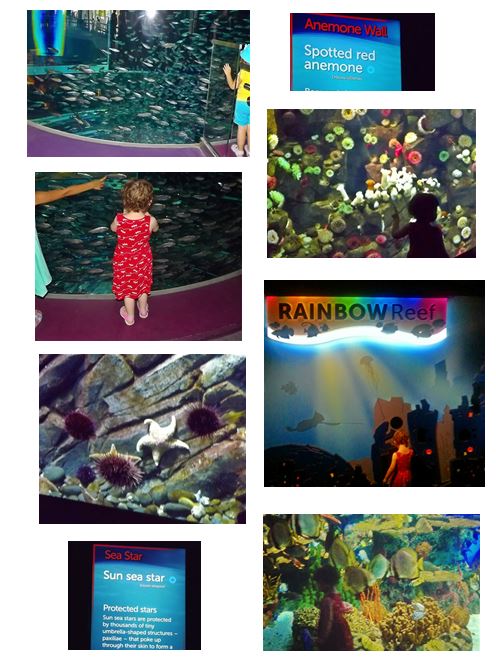 Octopus,  Large-mouth Bass, American  Eels, Arctic Grayling and China Rockfish.
Did you know that American eels, bodies are covered in a thin layer of mucus? I loved the Sea Pens, which are named  after  their  feather  pen-­‐like  appearance. My daughter was taken by the anemone wall that includes 7 different varieties, while the extremely rare electric blue lobster from the Atlantic Ocean caught my attention.
RAINBOW REEF
Next you enter the tropical waters of the Rainbow Reef. The tropical Rainbow Reef, representative of the warm waters of the Indo-Pacific region features 60 varieties of species such as surgeonfish,  angels,  damsels,  chromis, butterfly fish, and clownfish. All of the tropical fish were so beautiful, colourful, and vibrant.
DANGEROUS LAGOON
One of the highlights of our visit was the Shark Lagoon, which my husabnd was most looking forward to seeing. The Dangerous Lagoon is dark with eerie mood music. The Lagoon boasts a glass viewing tunnel with a moving sidewalk that takes you past sharks, saw-fish, sea turtles and moray eels. It's impossible to visit this area and not be amazed by these ocean predators.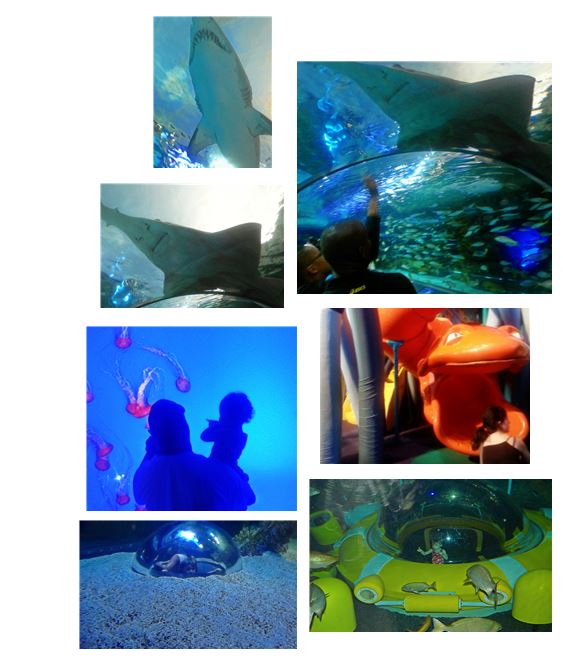 After-all, it's not everyday that you find yourself walking though a tunnel with big sharks floating by. This was by our favorite gallery in the aquarium.
RAY BANS & PLANET JELLIES
At Ray Bay, stingrays glide through the waters and then it's on to Planet Jellies. This was another favorite of mine. There are so many different kinds of jellyfish, and they certainly were beautiful to watch. There is also a large display area where you can learn more about the life cycle of jelly fish. which we found to be very informative.
DISCOVERY CENTRE

The aquarium as a whole is pretty interactive. The Discovery Centre is located about mid-way through the aquarium and was the ideal spot for my two year old daughter to play. The area features a playground, animal exhibits, a research submarine and a touch pool with horseshoe crabs.  Kids can climb in the "submarine", and look out for a submarine view.  There is also a hands-on display, which imitates the 16 locks of the St. Lawrence Seaway.
My daughter had fun popping up in one of the underwater viewing bubbles. In fact, she didn't want to come out.
Also located in this area is a restaurant/ snack centre if you wanted to grab a quick snack or sit and have lunch/dinner!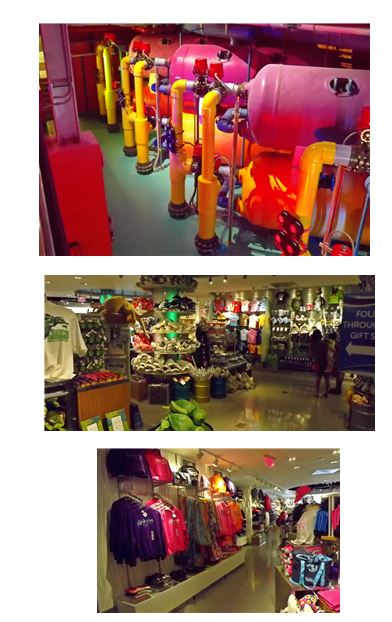 LIFE SUPPORT SYSTEMS
Another really neat aspect of the aquarium, is that you can see the filtration system of the aquarium. I'm sure many visitors would find this area fascinating, but my daughter had zero interest in exploring it, so we moved through the area.
SHORELINE GALLERY
The Shoreline Gallery feature stingrays and sharks that visitors are able to touch. After a two hour visit, my daughter was pretty tired, and we still hadn't checked into our room at Cambridge Suites, so we left the Shoreline Gallery for our next visit.
At Ripley's Aquarium of Canada there's plenty to see that will satisfy guests young, and old.  I don't hesitate to recommend it as a fun activity for families and a great way to end Summer.
Watching fish float by was the highlight of my daughter's day- and ours too.  It was also fun to watch the diver feed the sting rays.
On our exit, we exited through the Cargo Hold Gift Shop which has a range of merchandise, educational books and plush toys. Of course we couldn't leave without taking home a souvenir of our visit.
How much time should you plan for at Ripleys?
We were at the aquarium for about 2 hours.
Where is Ripley's Aquarium of Canada located?
Ripley's Aquarium of Canada is located at 288 Bremner Boulevard next to the Rogers Centre and the CN Tower in downtown Toronto.
How much do Ripley's Aquarium Toronto tickets cost?
Tickets are $29.98 for adults, $19.98 for youth and seniors, $9.98 for children three to five. Children ages 2 and under receive complimentary admission when accompanied by an adult. Save even more if you visit after 7:00 pm.
There are so many other fun things to do at the aquarium such as yoga classes, photography classes and an opportunity to "sleep with the sharks" during an overnight stay beneath a shark tank.
ABOUT THE RIPLEY'S AQUARIUM OF CANADA TEAM
Ripley's Aquarium of Canada is also home to a highly-experienced animal husbandry team of more than 20 marine biologists and aquarists. Under the leadership of Director of Husbandry, Andy Dehart, the team is responsible for the long-term care of the animals in the exhibit, as well as overseeing water chemistry, animal nutrition, and animal enrichment. The Aquarium strictly adheres to the standards of animal welfare, veterinary care, wildlife conservation, scientific research, education, staffing, and safety, as regulated by Association of Zoos and Aquariums (AZA), and the Canadian Association of Zoos and Aquariums (CAZA).
Ripley's Aquarium of Canada is open 365 days a year, 7 days a week. For more information, see ripleysaquariumofcanada.com.
The next day it was a short drive to the Toronto Zoo (torontozoo.com) for more Summer fun!