This giveaway is now over. Congratulation to Debbie Sherrer.
Welcome to day 4 of  our giveaways. Today we have partnered with Napa, California company NightBuddies. NightBuddies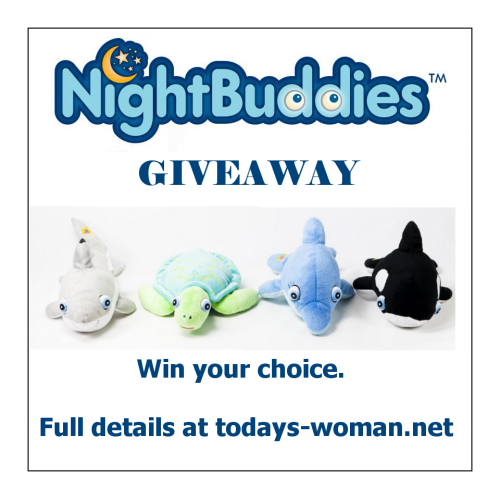 are magical plush toys with a special secret: Hug them and their eyes light up! Children feel comforted at bedtime with their NightBuddies beside them. Patented illuminating eyes help ease fear of the dark. Parents will love how easily children fall asleep with these soft cuddly companions.
Sally Connolly and her family started Night Buddies in 2004  to teach her children how to follow their dreams and enjoy the journey. This lovable plush line is for children of all ages and perfect for every occasion, helping children feel safe at night.
Today Sally wants to give one very lucky Today's Woman reader a chance to win a set of Nightbuddies. You get a large NightBuddie with matching baby. You can choose between whale, dolphin, turtle and shark.
Mandatory entry: Drop by, read my review Plush light up toys-Night Buddies and leave a detailed blog comment letting me know your thoughts. Do not forget to come back here and let me know that you commented.
Extra entries:
Drop by NightBuddiesToys on Facebook and give their page a like.
Sally wants to know if you are from Canada or the US. (Easy entry)
Follow @nightbuddies on Twitter
Like us on Facebook
Follow us on Twitter
Follow us on Instagram
Follow us on Pinterest
 Comment on "Roll and Play Game from Thinkfun" or "Code Master by ThinkFun"
Tweet daily: For all your #Christmasgiftideas check out @Todayswomanco holiday #giftguide https://www.todays-woman.net/2015-christmas-gift-guide/
Tweet twice daily: Enter to #win a set of @nightbuddies from @Todayswomanco  Helping kids sleep! https://www.todays-woman.net/2015/contest-giveaways/nightbuddiesgiveaway/
Tell us which one you'll be choosing should you win.
This giveaway is open to both residents of the US & Canada and you must be 18 years or older to enter. One person per household. Giveaway ends Dec 17th 2005 at 9:400 pm EST.