When it comes to finding just the right personalized gift for the woman in your life, nothing beats a "Close To Your Heart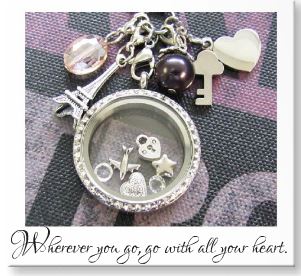 Floating Locket" from Total She Inc.
Select your favorite charm locket from four styles and tell her personal story with each floating charm you add. Easily add your birthstone and hers,  or your children's birthstone to any locket. Personalized locket photo plates can also be ordered for something truly unique.
Complete the look of your locket by adding one of many custom plates available.  You can customize your locket further with dangle charms.
Charms can even be personalized with a name or word.  Each locket has a screw on glass lid, which allows her to add charms to her locket as the family grows.
All lockets and chains are made of high-quality stainless steel- that will not tarnish or rust.  All crystal lockets are coated with a professional grade shellac to keep the crystals intact.
When I customized my own locket, I knew right away that I wanted it to center it around the relative adoption of my
granddaughter- who is now my youngest daughter.
I simply started with a locket. I chose a large crystal locket – beautifully outlined with sparkling crystals.
 I then added a chain.
Add a background plate. The back plate is like a backdrop to your charms. I chose the plate blessed.
Add a few charms. It wasn't easy selecting the charms as "Total" She has such a large variety. I chose my youngest daughter's birthstone, baby footprints representing her innocence, a heart representing  love,  and the words hope, faith representing adoption.
Add a dangle charm or two.  I added a family tree charm to represent family, my daughter's name, a pink pearl to represent

purity

and a word charm-blessed to represent the blessing Miss P is to our family.
The end result was a beautiful locket that is full of meaning. It's exactly what I envisioned when I chose my pieces to put together. I will be adding my other child's names and birth stones to the locket, as well as my soon to be daughter-n-laws birthstone and name.