There are many great Easter books for children. Some deal with the religious significance of the holiday, while others deal with bunnies and Easter eggs. Today I bring you a different kind of egg, but whose egg is it? Enter the wonderful handmade world of artist Rebecca Dudley, as you embark on a silent journey with Hank- a small, animal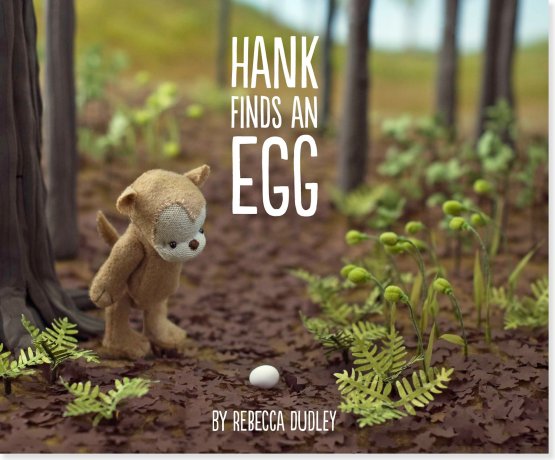 with a big heart. "Hank Finds an Egg" is a one of a kind illustrated wordless children's book, which allows your child to engage with the text while using his or her imagination.
Every component of the books beautiful scenery is handmade by Dudley, then photographed to perfection. Dudley's stunning visual narrative allows your child to interact with Hank, creating their own story as the character progresses.
While walking through the forest, Hank finds an egg on the forest floor. After spotting its nest high up in a tree, he uses his ingenuity to help get the egg home safe and sound, and is joyfully rewarded with new-found friends!
Dudley's novel is great for all ages, but specifically aids younger children who want their independence but are still without literacy. A silent book allows the child to take control of the story, instilling in them a desire to create, to tell, and to "read" through pictures.
The book is a great way to engage children as young as four with concepts of literacy- it is also a wonderful way to inspire your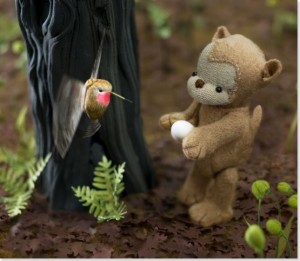 child to build their own fictive worlds with their own plush pals.
I am absolutely in love with Rebecca Dudley's artistic style. She has captivated me with her whimsical world and I can't wait to dive into Hank's second adventure: "Hank Has a Dream." This is an artist to watch.
Author Rebecca Dudley is a builder, creator, photographer, and artist. She makes everything that appears in her illustrations: the trees, leaves, ponds, skies, and the creatures themselves. She lives in Evanston, Illinois.
Read an interview with Rebecca Dudley, author of "Hank Finds an Egg."
This upcoming Easter delight your children with this endearing and uniquely illustrated wordless picture book, which is available for purchase at peterpauper.com.