Swaddling is the age-old practice of wrapping your baby snugly in a blanket. Cultures around the world engage in swaddling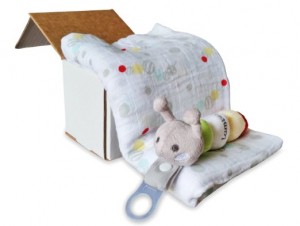 infants, due to the great number of benefits swaddling provides. One great reason to swaddle your baby is that it has been known to help reduce some of the risks associated with SIDS by keeping your baby on their back.
Wrap baby in the comfort of 100% Organic Muslin Cotton. When swaddling a blanket needs to be large enough, so that baby stays swaddled. The muslin blanket from Lambie & Me will soon become mom's favorite blanket.  It measures 47×47 inches, the perfect size for swaddling.
Cotton is a natural fabric, and muslin is a very fine kind of cotton, that is known for its premium quality and longevity. Organic Muslin Cotton is breathable; which means it allows for the blanket to vent out the heat forming inside, therefore keeping baby comfortable. In addition the blanket leaves no harmful effects on baby's skin. Plus, Organic Muslin Cotton gets softer after each wash.
Muslin swaddle blankets not only help baby feel safe and secure while swaddled; but they also can be used as a a nursing cover, a change mat, a sun cover, a stroller cover and more.
This holiday season or for an upcoming baby shower gift why not give the "Caterpillar Organic Swaddle Blanket & Plush Toy
Pacifier Holder Gift Set" from Lambie & Me. Both items are unisex, making it the perfect gift for either a boy or girl.
Similar to a WubbaNub, the included pacifier holder is designed to give baby comfort. Different than the Wubbanub, you can attach any brand of pacifier to the cute caterpillar, therefore making the pacifier detachable for easy cleaning.
The Caterpillar makes it easy for baby to grasp and manipulate the pacifier to his/her mouth.  The soft design of the Caterpillar is also comforting for little hands to hold. The pacifier also doubles as a comforting sleep aid for baby.  Baby will love the Bop Buddie™ Plush Caterpillar Pacifier Holder as their new sleep-time buddy.
The Plush Caterpillar Pacifier Holder  also works with teethers. The adapter on the holder is odorless, BPA-free, PVC-free, & Phthalate-free.
Use coupon code: U6UZJXOF at Amazon and save 25 % off your order.  Coupon code is good until Nov 20th, 2015. Please note though Lambie & Me does not ship to Canada.
Lambie & Me is a brand offers the best child care products, including organic swaddle blankets. To learn more about the company visit: http://lambieandme.com/