Tummy time is an important part of every infant's muscle development. Tummy Time helps your baby develop the neck, back,
and shoulder muscles needed to meet milestones. Tummy time not only strengthens those areas but also supports the development of higher-level gross motor skills (like rolling, crawling, and walking). Baby mats allow your baby to learn the basics of cause and effect. They also provide a soft place for the baby to lay during tummy time. Your baby grows fast, and this Deluxe Fill 'n Fun Water Mat is perfect for tummy time for babies aged 6 months and up.
By the age of 6 months, your baby is at the halfway mark of his/her first year and is now constantly on the move, loving tummy time because he/she can do so much and see so much. The adorable turtle-shaped mat from EarlyYears encourages extended tummy time for your baby with all the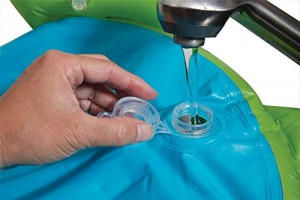 bright colors and fun features.
The inflatable Deluxe Fill 'n Fun Water Mat is perfect not only for tummy time, but it encourages sensory play. Your baby can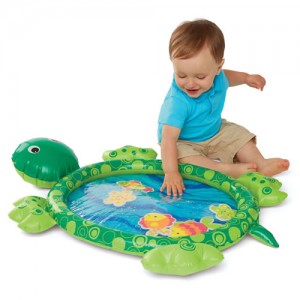 have all the fun of splashing while playing in your living room. Baby will enjoy pressing down on the water-filled portion of the mat and watching the water and the fish inside the mat move. The inflatable Deluxe Fill 'n Fun Water Mat facilitates the development of cause and effect by providing a water-filled area with toys that respond to their actions, encouraging them to interact with the mat again and again.
Simply inflate the outer chamber of the mat with air and fill the inner chamber with water through the fill spout. The water can easily be drained for quick, fold-up storage of this adorable mat. It is also portable and can be easily taken with you to a friend/family member's house or on a trip during the holiday season.
As with other baby products, be sure to supervise your baby while he or she is using the Earlyears Deluxe Fill 'n Fun Water Mat Baby Toy.
As the Christmas holiday approaches, families are often stumped as to what to give to the newborn baby or expectant mom in their lives. Early years have some of the simplest sensory gifts you can give.
Earlyears is International Playthings LLC's proprietary brand for ages 0-18 months, designed to entice, entertain and nurture growing babies every step of the way – from their first sensory experiences to the development of cognitive, language, and social skills. Be sure to check out their full line at http://www.earlyears.com/