Canada's largest city- Toronto, Ontario has much to offer visitors, from theatre productions to city highlights such as the CN Tower and the Rogers Centre. No wonder it is a top destination for countless visitors every year. Before you are able to indulge in all that Toronto has to offer you need to find a place to stay in Toronto. Staying in downtown Toronto has never been more attractive with Cambridge Suites. Situated at the corner of Yonge and Richmond Streets, the Cambridge Suites Hotel offers a smoke-free environment that is comfortable and inviting.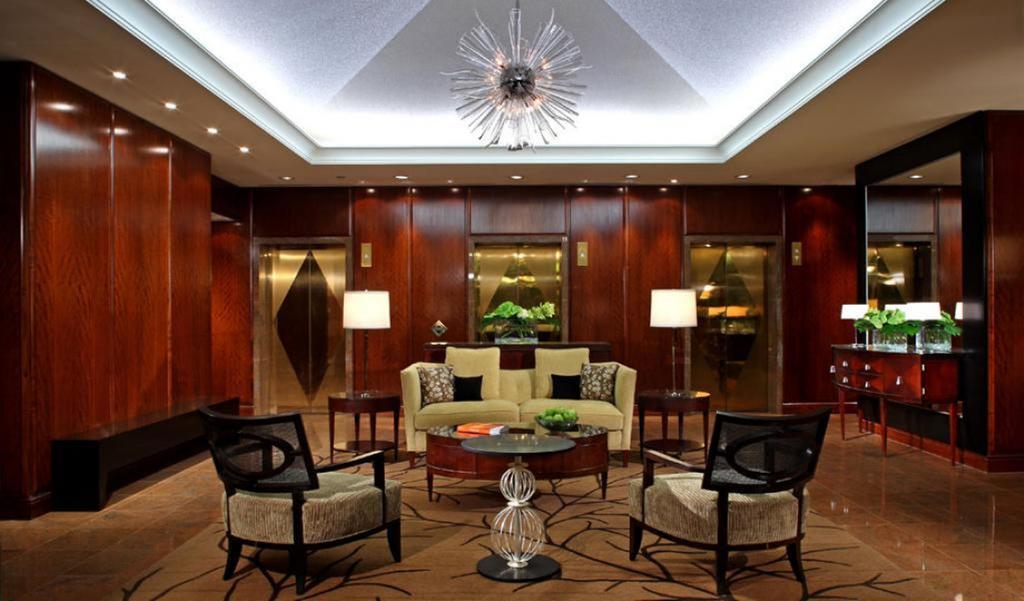 The moment we walked into the small clean lobby we were greeted by courteous staff.
The concierge desk was kind enough to provide us with a map and even marked out where the hotel was situated, so we could find our way back.
There are several Museums, theaters, and shopping centers all within the vicinity of Cambridge Suites. The Eaton Center shopping complex with its 300 shops and restaurants is within short walking distance.
If you enjoy shopping, Cambridge Suites Hotel is conveniently connected to the shopping and entertainment district by way of the city's underground Path, which you can also use to access the parking area. This is perfect for rainy days.
If you don't mind walking- Chinatown is a 25 min walk from the hotel or you can take public transit. It is definitely worth the walk to check it out. The small shops have everything from clothes to pots and pans and souvenirs. I wish we had more time to spend in Chinatown, but there was just so much to see in Toronto that we didn't have a lot of time.
Not only is the location of the hotel convenient, but  Cambridge Suites Hotel Toronto offers services and amenities that are second to none. The hotel provides guests with a 4-hour complimentary use of their bike and provides a lock and helmet, which we didn't utilize, but it was nice to know that Cambridge Suites offers this service.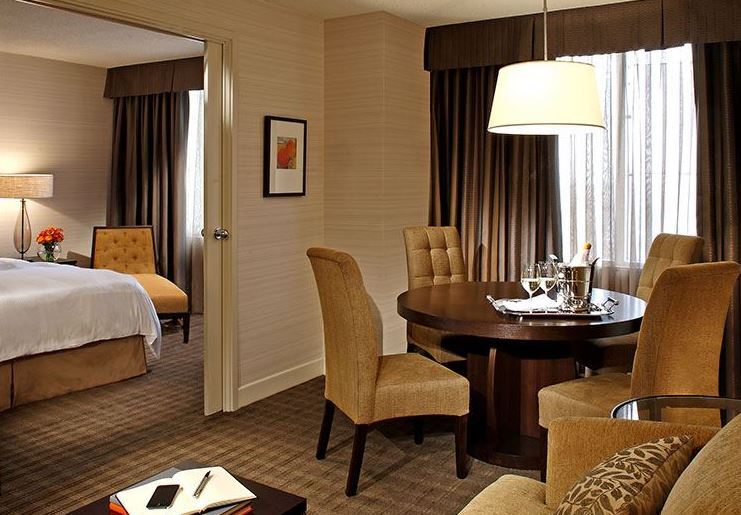 My husband & I  stayed in the spectacular Cityscape one-bedroom suite, which features a king-size bed, and a separate living room equipped with an entertainment bar that includes a microwave, refrigerator, and Keurig coffee maker- featuring complimentary coffee or tea and a minibar. The mini bar can be a little pricey, but the cost is affordable, unlike the previous hotel we stayed at.
General amenities include a private bathroom with complete bath amenities, a bathroom with a vanity area, 2 telephones with voice-mail, wireless and wired Internet access, complimentary local and toll-free calls, 37" LCD HDTV in the living room and bedroom, a hairdryer, iron, CD/DVD player with MP3 docking station, and ironing board and in-room safes as well as a complimentary newspaper every morning.
Andy at the concierge desk was very helpful in getting my laptop connected so I could get online. It was so cool to be able to tweet @timostrem – the general manager right from our room.
Every night at home I fall asleep to the sound of a fan. When I requested a fan from the hotel, Andy saw that a fan was delivered to my room, so it felt just like home. Now that's service!
In fact, all staff at the front desk were very helpful and always willing to answer my endless questions. I was also impressed with the other staff at the hotel that were always polite and courteous and greeted us each time we passed with a friendly hello.
Tim Ostrem general manager of Cambridge Suites welcomed us to the hotel with a complimentary bottle of chardonnay, chocolates, and book- Hotel Hobbies- 50 things to do in a hotel that won't get you arrested. ( I was so busy enjoying the hotel & Toronto I had no time to read the book.)
There are only 12 sophisticated suites on each floor of the hotel, so the floors are very quiet unlike in other hotels. I absolutely loved the sliding doors in the bedroom that separated the bedroom from the living room and dining area.
The vanity area is a woman's dream, providing lots of room to get ready for a day out on the town. I wish I had that kind of vanity in my home.
At turn down the maid brings up 2 bottles of water, and chocolate and pulls the curtains shut. This is a really nice touch.
Unfortunately, my husband and I slept so well in the comfortable bed that we missed the continental breakfast provided by the hotel. Sadly I can not comment on the food.
The Cambridge Suites Hotel has 2 onsite restaurants. Portico is open for breakfast, lunch, and dinner. It serves fusion cuisine in a modern setting.
The Portici Lounge serves appetizers, cocktails, beer, wine, and a simple bar menu. It opens late in the morning until late in the evening.
I didn't dine at the hotel, but I did check out the menu and the prices are what you would normally pay at a nice restaurant. Room service is available anytime between the morning and evening.
On the 22nd floor, there is a small Gym, whirlpool, and sauna. The view up there is great. We didn't get a chance to try out the whirlpool, as it was occupied, but plan for our next visit.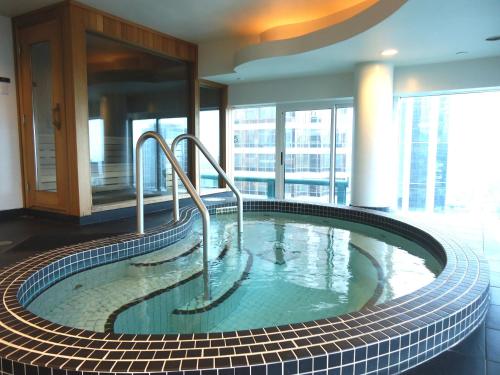 If you are planning a luxury Toronto honeymoon or anniversary, the Cambridge Suites offers 3 different penthouse suites on the 22nd floor with scenic views of downtown Toronto, private hot tubs, and steam sauna showers.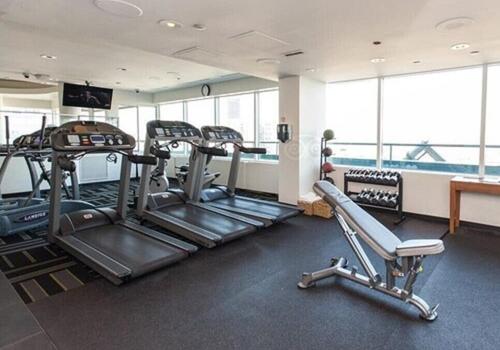 Are you planning a meeting? Cambridge Suites Hotel has audio-visual equipment, a business center, and conference/meeting rooms available for hire. Onsite parking is available, subject to charges, and laundry facilities are also available.
Overall, Cambridge Suites is a wonderful hotel. My husband and I look forward to our next visit to Toronto as we will be staying at Cambridge Suites.
I would like to extend a very special thank you to Rowena Sancho executive assistant at Cambridge Suites Hotel who was helpful in booking my reservation and in answering all my questions prior to arrival.