An Academy of General Dentistry survey reveals that 40 percent of respondents have agreed that a smile is the first thing they notice about a person. And we are all aware of the confidence boost looking good brings. Hence, we must take care of our teeth.
According to the 2020 Tennessee Oral Health Survey, dental health in Tennessee is below the national average. The average adult in Tennessee has 12.2 decayed, missing, or filled teeth. The survey also found that access to dental care is a problem in Tennessee. Only 58% of adults in Tennessee have had a dental visit in the past year.
So, as an adult living in Goodlettsville, Tennessee, there is a need to pay better attention to your dental health. And consulting an orthodontist is one way to go about it.
It is crucial to find an orthodontist who is skilled and experienced and also makes you feel comfortable. We have listed a few factors to help you make an informed decision.
1) Qualifications and Credentials
The first and foremost factor to consider when choosing an orthodontist is their qualifications and credentials. Orthodontists are dentists who have completed an additional two to three years of specialized training in orthodontics. They should be licensed and certified by a recognized dental association or board. You should also keep in mind the treatment you require and look for experts in the specific field.
So, if you are looking to get Invisalign, look for the Top Invisalign provider in Goodlettsville with the necessary qualifications and certifications to ensure they have the knowledge and expertise for the procedure.
2) Accessibility and Convenience
Orthodontic treatment, like getting Invisalign, often requires multiple visits over an extended period. Therefore, it is essential to settle for one that is conveniently located and accessible to you. Consider factors such as proximity to your home and workplace to make scheduling appointments easier.
Additionally, inquire about their office hours, including evenings or weekends, to ensure they can accommodate your schedule without causing disruptions. Note that practitioners in service for longer are likely to have a more sophisticated scheduling system.
3) Experience and Expertise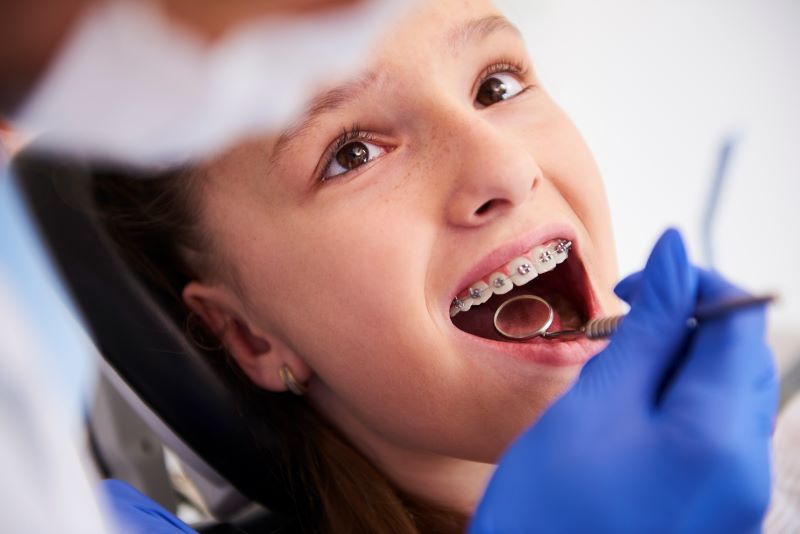 A seasoned orthodontist with years of practice has likely treated various cases. They can offer valuable insights and effective solutions for a specific problem. Look for an orthodontist with experience in treating patients with orthodontic issues like yours. You can inquire about their experience during a consultation or check their website for information on their practice history and areas of specialization. An experienced orthodontist is more likely to provide excellent results and handle any complications that may arise during treatment.
Do not feel shy asking about their past experiences. Get to know how many cases like yours they have handled and their results. Fearing that you will come off as too concerned will only leave you confused in the end.
4) Treatment Options
 Orthodontic treatment involves a range of options, from traditional braces to clear aligners. It is essential to choose an orthodontist who offers a variety of treatment options to meet your specific needs and preferences. Different cases may require different approaches, and having access to multiple treatment options ensures you can make an informed decision. Moreover, inquire about any advanced treatment techniques or technologies the orthodontist utilizes. These can contribute to more efficient and comfortable treatment.
5) Treatment Philosophy
Each orthodontist may have a slightly different treatment philosophy and approach to orthodontic care. Some prioritize faster treatment times, while others emphasize aesthetics or bite correction. Finding an orthodontist whose treatment philosophy aligns with your goals and priorities is crucial. During your consultation, ask the orthodontist about their treatment philosophy and how they plan to address your specific concerns. A clear understanding of their approach will help you determine if they fit your needs.
6) Reviews and Testimonials
 Reviews and testimonials from previous patients can provide valuable insights into the quality of care an orthodontist provides. Ask for online reviews on reputable platforms and read about other patients' experiences. Positive reviews and testimonials are indicators of patient satisfaction and can instill confidence in your decision. However, remember that a few negative reviews are not necessarily a reason to dismiss an orthodontist entirely. Pay attention to the overall trend and consider the concerns raised in negative reviews.
You could also ask the practitioner to connect you with individuals he has performed procedures on before. They will be able to guide you better and give you a thorough response.
7) Communication and Interpersonal Skills
Effective communication between you and your orthodontist is crucial for a successful treatment experience. A good practitioner should be able to explain the treatment process, address any concerns you may have, and keep you informed about your progress. They must avoid using jargon and take time to explain how the process works. Doing this builds your confidence in them and allows you to judge the situation better.
8) Cost 
Dental treatments cost a ton. Even a small procedure can cost a lot due to the machinery and technology used. Moreover, increasing expertise increases the price. An experienced practitioner will give you a comprehensive rundown of the costs. Given that some procedures extend over some time, you must inquire about the full cost of the service. Doing this will avoid any rate changes and surprises later.
The decision-making process should involve balancing the cost and the quality of care an orthodontist provides. It is recommended to consult with different orthodontists, inquire about their treatment plans, ask for an itemized breakdown of costs, and assess their qualifications and patient reviews before making a decision. This way, you can find an orthodontist who aligns with your budget and provides excellent orthodontic care.
Conclusion
Choosing an orthodontist is a decision that will affect your entire life. Even when the procedure is complete, the result will speak forever. Hence, it can be challenging to find a suitable one considering all the things mentioned above. Look for a balance of all these factors and research before you settle for one. A little extra effort now will save you from inconveniences and unsatisfactory results in the future.