Many people these days are striving to achieve better health – and for good reason. Health issues due to unhealthy eating habits, climate change, and other factors have increased.
However, there is also an increased awareness regarding the latest health practices. Additionally, advancements in technology and infrastructure have enabled people to lead positive lifestyles. They not only seek to remedy their illnesses but also strive to attain good general health overall. This includes tracking disease, eating well, and identifying common stressors in their daily lives. However,  the average person requires awareness about the latest health devices and trained practitioners whose services can be availed easily.
In the U.S., healthcare quality and availability vastly differ from one state to another. According to Forbes, Hawaii is the best in terms of health, whereas Kentucky fares poorly. It has the highest percentage of adults with minimal physical activity, with one in three adults getting less than seven hours of sleep. Furthermore, the Centers for Disease Control and Prevention state that Kentucky has higher than national average rates in terms of cancer, obesity, heart disease, and respiratory problems. In Columbia alone, 29.3% of women and 20% of men are obese. In order to combat these challenges, let's examine how technology can be used in healthcare.
Telehealth
Telehealth or telemedicine lets patients communicate with their doctors through video and voice calls in the comfort of their homes. The good news is you can now even contact a local pharmacy in Columbia KY, such as North Century Pharmacy, if you're feeling unwell and can't reach a doctor. You'll need to fill out a brief form about your symptoms. Then, according to patient convenience, a doctor can schedule a virtual meeting with you. This will not only cut traveling time but also allow patients to receive the proper medication and treatment recommendations before symptoms worsen. Moreover, telenurses make use of remote monitoring systems, computers, and delivery companies to offer medical services. Such devices have replaced traditional stethoscopes, thermometers, and blood pressure cuffs. Telehealth is particularly useful in rural areas where medical facilities are scarce.
Health Apps
Since Kentucky has some of the worst cases of obesity, health apps are useful to motivate a change in lifestyle. These apps bring a multitude of features that one can enjoy. From measuring exercise time to monitoring the nutritional content of your meals, they have it all. They show the number of calories burned and the intensity of each workout. This helps to pace oneself according to stamina. Food apps let you pick delicious new recipes that are low in calorie count, so you don't have to compromise on taste.
Some of the most popular apps come with fun video demonstrations of trending workouts. Also, the chance to add friends to a workout group should not be missed. Many who exercise frequently do so with a partner or a friend group. MIT researchers published a study in 2017 in Nature Communications, highlighting that exercise was "socially contagious." Watching friends being active will inspire others to do the same.
Barcode Apps for Nutrition
People are making frequent use of barcode apps instead of reading every single grocery label. These apps quickly uncover a product's nutritional content, enabling customers to make informed buying decisions. The best thing is that these apps aren't complicated. People can simply swipe the product, and the process is done. It's super handy for keeping track of the amount of salt, sugar, and saturated fats a food has. Those sensitive to one or more allergies can pick the product that's just right for them. For picky eaters with a vegetarian or gluten-free diet, these apps are a must-have.
Sleep Well
Sleeping patterns profoundly affect the way our bodies regenerate. According to the Sleep Foundation, "deep sleep" is the most crucial stage of the sleep cycle. Without it, the body and brain cannot energize effectively. A recent survey shows that 42.1 % of Kentucky adults get seven or fewer hours of sleep each night. Falling into deep sleep requires the body to be fully relaxed. Many sleep apps provide ways of relaxing that cater to each person's preferences. These include stories and music, pre-bedtime meditation, and guided breathing exercises.
Smart Home and Gym Equipment
New exercise products are available in the market that offer advantages over traditional equipment. They come with heart rate monitors and detect changes in interval training. This smart equipment can be used at home or at the gym. They consist of bikes, treadmills, and ellipticals that have LED screens, enabling a fun and engaging workout experience. Several famous trainers and their programs can also be accessed with built-in online applications.
Tech for Cancer
Cancer is a major threat to Kentucky, which has the highest rate of lung cancer, and its treatment can be a complicated process. However, with emerging technologies, cancer patients still have hope. Dr. Bertalan Mesko at The Medical Futurist believes in the process of liquid biopsy. It enables the early detection of cancer by conducting analyses of extracted simple blood samples from tumors. Furthermore, he states that a patient must receive targeted therapy based on their unique molecular genetic altercations in those tumors. Then, algorithms based on Artificial Intelligence will match these genetic mutations with cancer therapies.
Smart Inhalers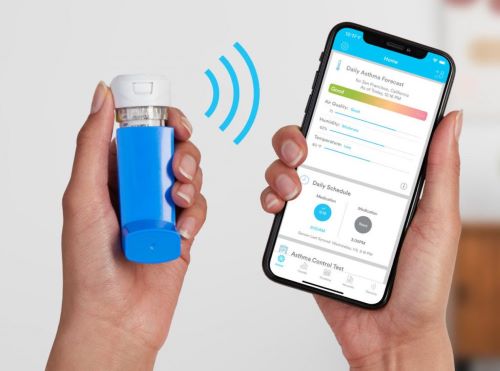 The suffering and costs created by respiratory diseases have caused researchers to innovate better treatment methods. Developed wireless technologies and mobile computing allow data to be transferred from an inhaler to the patient's personal device. They are referred to as smart inhalers, and they serve as reminders and personal monitors. They track the time of use as well as whether the technique of inhalation was correct. This guides patients in their daily routines and helps physicians to adjust treatment strategies. Smart inhalers can aid asthma patients and improve lung functioning.
Conclusion
The breakthrough in technology in this era has been a great feat. We may have grown accustomed to traditional visits to the doctor, but modernization has trivialized such tasks. We no longer have to rely solely on face-to-face visits for diagnosis. Patient health information can be obtained and processed much faster thanks to technology.
Kentucky may be one of the hardest hit by chronic diseases, but it's never too late to change things around. As lifestyles become more demanding and complex, a growing number of people rely on apps and gadgets to help them get through the day and eventually improve their well-being.