Playing Alana's Animals with your kids is a great way to spend some quality time together. The enchanting family game from Genius Games imparts important math skills to preschoolers, junior kindergarteners, and seniors.
Alanna's Animals comes highly recommended by the National Numeracy Council. The average game lasts between 10 and 15 minutes and can be played by two to four players.
Alanna's Animals is designed to help young children learn fundamental early school math skills in an entertaining and engaging manner.
Math knowledge gained from playing includes number recognition, rational counting, quantities and magnitude, and subsidizing. In Alana's Animals, you will find 2 challenging games for increasing your math skills and complexity.
While developing a vast array of numeracy skills, this game promotes healthy competition and turn-taking.
In playing with my daughter, she enjoyed collecting the animals, and the cards, in turn, encouraged her to use math vocabulary, such as "more than" and "less than". In addition, this helped her focus and develop her observation skills.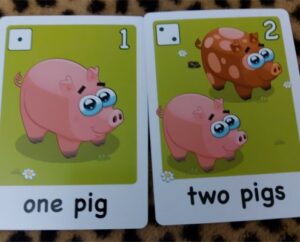 Several of the cards themselves have hidden gems, for example, the card Farmer's Wife has a worm.
Obviously, younger players may need some adult assistance, especially when reading the cards and understanding the rules. In addition, children will enjoy competing to win apple rewards, which reinforces the notion of winning and losing.
Among the skills they will learn are:
Encourages numeracy skills
Develops turn-taking and understanding of winning and losing
Promotes concentration and attention skills
Helps with addition and subtraction
Grouping and Recognizing Attributes
Teaches Greater and Lesser Than
After some rounds with me, my daughter is hooked on the game.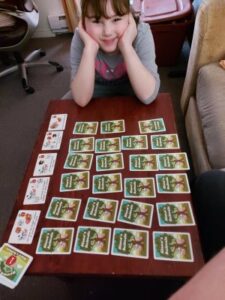 There are numerous ways to play Alana's animals, but my daughter and I started with the first game, Hide And Seek, as an introduction to the game and to get used to the concept of gameplay and rules. She loved it ! It is so easy to play. First, take out all the animal cards and place them face down. Then place the four Apple cards face up. Apple cards are also loyalty cards that players can earn after collecting animal cards. At the beginning of the game, each player selects an animal card and flips it to the right to see what is given. Each player can discuss the animals they find and talk about the different species, colours, spots, quantities, etc.
Now that each player has collected all the animal cards, it's time to discuss the Apple loyalty cards that were added at the beginning of the game.
The good thing about Apple loyalty cards is that they encourage you to talk and see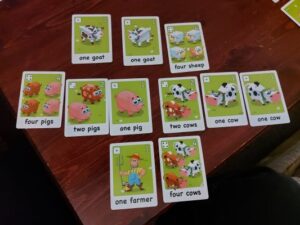 different variations of your calculations. How big or small are the animals with horns, how many are there etc.  Players read the Apple scorecard aloud, and each player looks at their card to see if it meets the criteria. If the player's animal cards meet the criteria, they will receive an Apple reward card. Once all Apple Point cards have been earned, each player will add up their Apple Card points to see who is the winner.
Alana's Animals Cards Various Game Play:
• Hide-And-Seek
• Farmyard Rewards
• Every Animal Counts
• Animal Auction
• Reward Race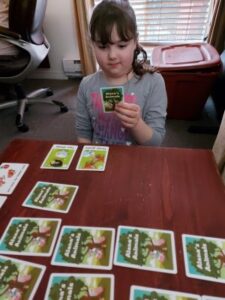 Why not make your own version of Alana's Animals, as the skies the limit and so is the fun and learning.
Overall,  the game will be getting lots of play in our house. For us, any educational game that keeps children engaged and excited to play it over and over is a big win. Every Animal Counts Math Game by Alana is an excellent choice. My only regret is that we didn't discover it sooner.
Be sure to check out other fun family games from Genius Games!