Are you dreaming of a green Christmas? The holiday season doesn't have to be a burden on the planet. This holiday season, consider gifting green products from Basic Goods Trading Company.
In 2021, the Basic Goods Trading Company was founded as an environmental company.
A general store was started in response to the pandemic that ravaged the World. As the pandemic hit, founder Shannon O'Reilly found herself isolated at home. The mother of three rambunctious boys, she was frustrated to see the number of single-use  wasteful household products they used for simple, everyday tasks. It was obvious that there must be a better way.
Shannon saw so many single-use disposable items in her trash each week she could have avoided with high-quality reusable products. She then searched multiple websites for alternatives to all those disposable items. It became apparent that many other households faced the same dilemma. Her research revealed that she had a hard time finding options at good prices from one location. This is a problem that many households face. Thus was born The Basic Goods Trading Company.
This year, it's time to go green with gifts that save the world.
Beeswax wraps
Unlike traditional plastic wrap, these wax wraps are a washable, reusable, and a compostable alternative. Beeswax wraps are the perfect way to store bread, cheese, fruits, and vegetables. Lightweight and flexible, these containers are great for storing food at home and on the go. It's a practical way to cut down on the use of single-use plastics in your kitchen. These beeswax wraps are made with cotton fabric, beeswax, tree resin and jojoba oil. The all-natural and non-toxic ingredients help make a wrap that is sturdy and reusable. Besides being biodegradable, these wraps are also environmentally friendly. Plus these wraps will keep your food fresh up to 3x longer than plastic wrap. To wash, I use a tiny bit of soap and wipe each sheet with a Swedish dish cloth before running it under cold water.
Basic Goods Dryer Balls
Natural wool is used to make Basic Goods Dryer Balls, making them more environmentally friendly than dryer sheets. In addition to preventing static cling and wrinkles, wool balls also soften the fabric as they tumble. If desired, you can also spray the wool balls with your favourite essential oils. Put two dry wool balls and a damp cloth on top of your clothes in your dryer, and turn the machine on as normal. This will reduce drying time by 10 to 40%. This brand is much better than other dryer balls I've used. My new favourite dryer balls have not only eliminated static from my recent loads of laundry, but they have also sped up the drying process.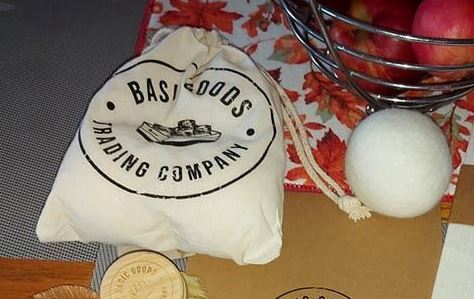 Stand-up silicone food storage bags
There will no longer be a need to waste sandwich bags with this next product. This product is easily cleaned and so versatile. These stand-up silicone food storage bags are a healthy, eco-friendly alternative to plastic bags. In contrast to traditional plastic food bags, silicone food bags are free of BPA and toxins. Food will stay fresh in these pouches due to the airtight seal and the pinch lock that cannot be tripped. These pouches can be cleaned using the dishwasher or the microwave!
Brushes
For cleaning, the Basic Goods bamboo sisal brushes are amazing. Featuring natural materials and an eco-friendly approach, these Sisal dishwashing brushes can clean anything, from pots to plates. If you are cleaning pots, pans, or bowls, just soak the brush in water and use it wet or dry. Having used the brushes for several weeks now, I am very satisfied. We were a little concerned that the brush's bristles would be too soft for tough messes, but that wasn't the case at all. The dish washing brush was able to easily remove melted cheese from the plate. The pot scrubbers are perfect for getting rid of any grime you come across. They clean easily, and they are the best kind of gift you can give – perfect for Secret Santa exchange, as they are a gift that will get lots of use.
Features:
5 reusable brushes made of high quality brushes
Oval Scrub Brush – Cleans everything from the bathroom to the kitchen
Dish Washing Brush – Perfect for scrubbing all your dishes with ease
Pot Scrubbing Brush– Remove even the toughest stains
Bottle Brush – Fits into tiny spots to efficiently clean
Fruit and Veggie Brush – Gently cleans fruits and veggies without any issues
Swedish Dish Clothes
If you know someone who is a paper towel addict, then this next product is for them. Not only is the consumption of paper towels bad for the planet, it's also bad for one's monthly budget. These Swedish dish cloths from Basic Goods are eco-friendly and stylish. Since these cloths can absorb 15 times their weight in liquid, they will clean any kitchen or bathroom surface without streaks. Composed of 100% biodegradable cellulose and cotton, they can simply be dropped into your compost bin, and they will decompose in a few weeks. These Swedish cloths are excellent for granite, stainless steel, and laminate countertops. And they won't clog dishwashers! The dishcloths also air-dry much more quickly than a sponge. To clean, simply toss them in the dishwasher, a pot of boiling water or washing machine. Lay flat to dry. You can reuse each individual cloth hundreds of times before throwing them out.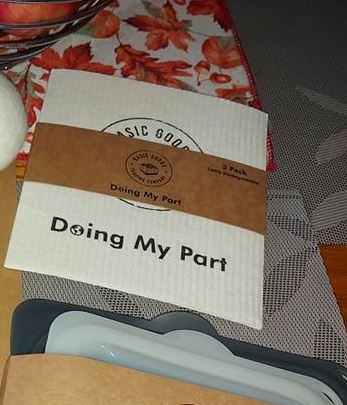 Holiday Bundle
The Basic Goods Trading Co. has a wide selection of seasonal bundles that would make wonderful gifts. Save money with the kitchen bundle.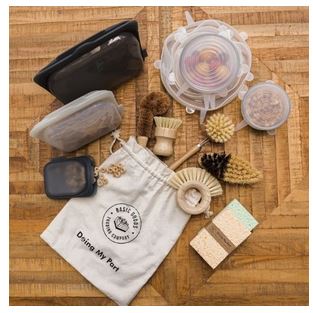 Contains:
Bamboo Sisal Brushes – 5 Pack
100% Cellulose Sponges – 2 Pack
Silicone Reusable Bowl Covers – 6 Pieces
Stand Up Silicone Food Bags – 3 Pack
As we count down the days to Christmas, consider what you can do for the environment. Make the world better with a gift from Basic Goods trading company. After your order arrives, wrap it all up in a reusable gift bag.
Website: https://www.basicgoodstrading.co/
Facebook: https://www.facebook.com/BasicGoodsTradingCo