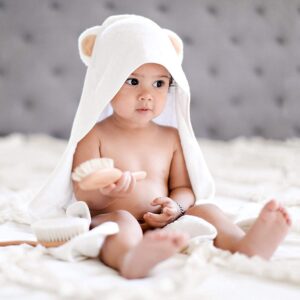 A newborns first bath can be stressful. To make the bathing process as comfortable as possible for baby, parents should take care in creating a positive bathing experience, and buying  Natemia organic hooded baby towel can help to do this. Choosing baby bath towels for your newborn is an important  task.
Cotton is a favorite among canvases for making Natemia organic baby bath towels. High-quality natural organic cotton baby towels perfectly absorb moisture, do not irritate delicate baby skin, do not cause allergies, and maintain its original appearance and pleasant softness for a long time.
Natemia also uses mixed materials, for example, the tandem of organic cotton and bamboo. This fabric is even more hygroscopic and also has antibacterial properties. Eucalyptus fiber is another useful innovation that is used. Lyocell in the composition of a baby towel purchased for a newborn will provide excellent absorbency, lack of dust, and foreign smell. However, over time, such products, alas, are subject to wear. That is why it is best to have several towels on hand.
Organic Hooded Baby Towel: A Necessary for Your Baby
Natemia's range of bath towels for kids even includes medium-length piles. Such a product retains its properties since the loops are not be able to tangle. Too short a pile will not properly absorb moisture, and the product will be a worthless purchase. The decor is appropriate, but only locally, since too large applications or an abundance of lace can injure the baby's thin skin. That is why Natemia's towels do not have unnecessary things.
Appearance and finish are the most important features of the best organic baby bath towels from Natemia.
Traditional towels for babies have the shape of a rectangle or square. In addition to them, they can be as follows:
with a corner
with a hood
A set of Natemia's hooded towels make for a wonderful baby shower gift. Visit the Natemia online store, to  find bathrobes, washcloths, as well as individual towels for newborns. All products are certified and fully comply with existing standards.