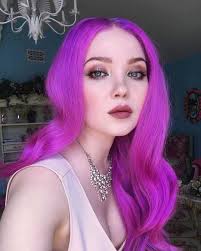 Color is hugely important. Some people love dressing all in black from head to toe. Others find themselves innately drawn to brighter, richer colors. Such is the case with Lime Crime cosmetics founder, and designer Doe Deere. She's always found colors of all hues fascinating. Her designs have always been at least in part about playing around with colors of all kinds. In her latest venture Poppy Angeloff, color once again takes center stage and keeps it there. As she says in a recent interview color has so much to say to the world.
Color, for her, is about directly communicating emotions to others with ease. Color means that people can tell a story without the need to say a single word. She uses color to help her and many fans feel a sense of happiness even when she's feeling unhappy. She can instantly turn to lots of color and let those feelings of depression melt away and a smile take their place.
A New Venture- Poppy Angeloff
Not content to sit on her laurels, Doe Deere has popped into the world with yet another way of seeing it. Her new venture Poppy Angeloff matches the other pursuits she's had in previous years as a business person. She is bringing out a new line of jewelry. Like makeup and clothing, for Deere jewelry can be another wonderful way to bring color into a person's life. Jewelry is one way that people can not only a single color to any look they have in mind. It lets people put on many layers of color.
Her new jewelry line, Poppy Angeloff, like so much of what she brings to the world is one where people can find inspiration and discover what they also love so much about the use of wonderful colors. The new line is one that lets her bring out her love of color to another product that she knows her fans will adore. In fact, Doe Deere intends on passing down her line of heirlooms to her new baby girl.
Sisterly Inspiration
Just like color, being a sister is also highly important to Deere. She loves being part of a loving family. Her own sister admires what Deere has down with her career. She and her sister began to think about ways they could bring new products to her millions of fans. It was then that her sister started to think about her love of vintage jewelry. Vintage pieces are pieces that have stood the test of time and still find many fans like Deere today. Her sister's love of such vintage jewelry quickly captured Deere's own thoughts. She began to think about how to take such vintage jewelry and give a completely new and contemporary twist of her own. The result is yet another line that will please her many, many fans across the United States and around the globe.
Staying True to Her Passion
Passion has also always been part of who Doe Deere is as a business woman. She knows that the best way to sell a product is to love that product. The new line of jewelry for her fans is something that once again shows off her love of life and her desire to bring her passion to life. This new line lets her bring her own ideas to fans and help them appreciate just how vintage style can add to their own lives. Those who love jewelry and admire color as much as she does will surely find these new pieces ones they can easily add to their own collection. They'll find her signature style readily apparent and find it in their own sense of color. She looks forward to continuing to please with innovative product ideas.