Are you thinking about sprucing up your home in 2019? I created a list of home renovation ideas for my husband to tackle in the new year. One of those items on that list is a complete makeover of our daughter's bedroom. We have had the paint from Dulux paints since September, but just have not got around to it yet.  I have thought about adding a wall mural to the one wall. Children's wall murals are growing in popularity. The problem is I do not posses the artistic talent to create a stunning wall mural.  Lucky for me there are various websites online where I can purchase a wall mural. When choosing a theme, one thing I need to consider is how long the mural is going to be in her room. A delicate floral mural is most fitting so I am leaning more towards that.
Floral Wall Murals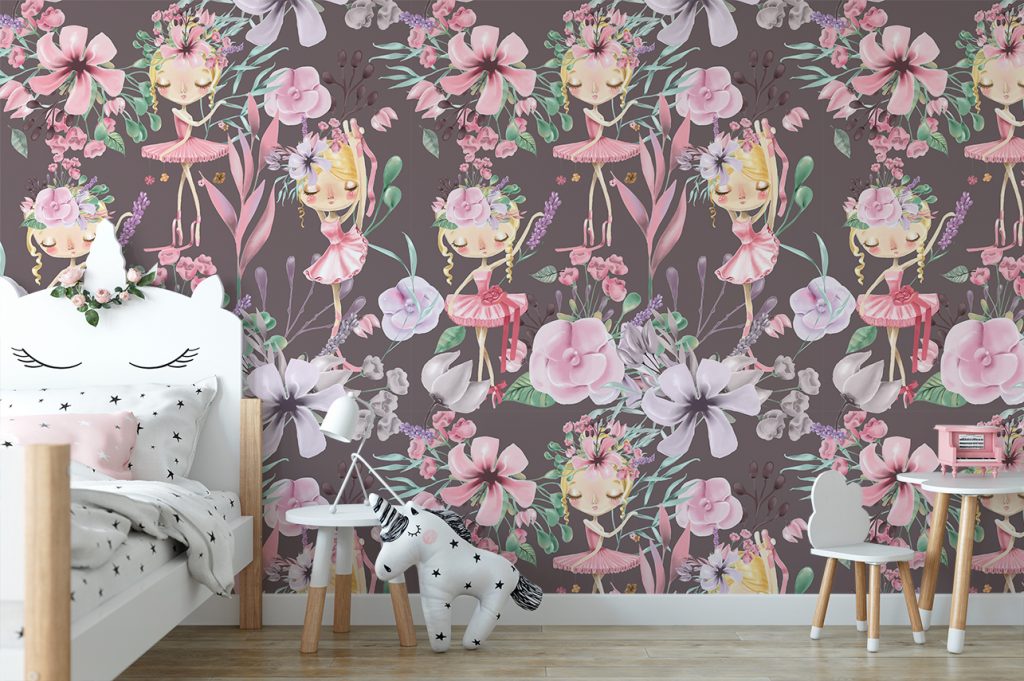 Nature is soothing and comforting to the eye and it goes well with any style of children's bedroom furniture. If you are like me and have a specific theme in mind and want a wallpaper mural that can blend in with it, then a floral mural is a wise choice.
A large floral mural is a great way to get an accent colour into the room which can then be layered upon with accessories. When choosing a flower mural for a bedroom, you'll want to pick something calm that will promote the idea of sleep. Make sure to match the colors in your mural to other design elements in the room.
Consider redecorating your daughter's bedroom with a dark floral mural. This beautiful watercolor floral seamless pattern mural featuring ballerinas, roses, peony, lilacs and branches on a dark background will create an elegant atmosphere.
Not all wall murals need to be big and bold though. Sometimes a simple floral mural makes a big artistic statement. For example this sophisticated floral mural featuring purple-white flower peonie, creates a vintage feel that I absolutely love. Contemporary pieces mixed with vintage finds, like my daughter's antique dresser will create the perfect little girl's room. My goal is to create a dreamy atmosphere mixing vintage and contemporary styles.
I can't wait for my husband to get started.
Have you ever considered creating a wall mural in your child's room? Feel free to share your ideas on children's wall murals in the comment section.