Father's Day is coming up this Sunday. Dads can be hard to buy for, but have no fear as we have the perfect gift for dear old dad. Your DIY dad will love the WORKPRO Rotary Tool Kit. From sanding chairs to installing that new kitchen sink you have been wanting,  to assembling new furniture, this rotary tool has him covered.
When we were shopping around for a rotary tool we did our homework. I had initially looked at the Dremel brand, but it was way out of our price range. We decided to go with WORKPRO, and I am pleased we did. This took kit has not disappointed. I have already used it on a few products around our home that my lovely wife has been nagging me to get done. Every man has a hunny to do list and mine gets longer each year.
The WORKPRO Rotary Tool Kit comes with plenty of accessories to get dad started on any project!
WORKPRO Rotary Tool Kit includes:
 10 Grinding stones
7 Diamond bits
12 Standing bands
36 Cut-off wheels
40 Sanding discs
1 Dressing stone
3 Collects
4 Felt polishing wheels
Felt tip with shank
 Bristle brush
Brass brush
High speed cutter
3 HSS twist drill bit
2 Mandrel wheel
2 Mandrel for sanding band
1 collect wrench
1 locking key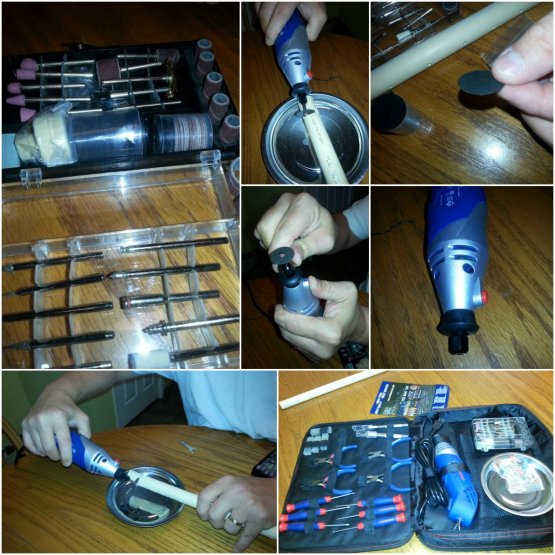 It also comes with a medium size stainless steel bowl that has a magnetic bottom, a carry case, 6 screw drivers, 4 mini pliers and 2 precision cutters.
The nice thing about the WORKPRO Rotary Tool Kit  is you can adjust the speed of the rotary tool easily by adjusting the variable speed dial. It also has an easy off/on switch that you can easily access with your thumb. The gel grip handle on the WorkPro fits very comfortably in your hand and there isn't allot of vibration so you can easily maneuver it in any direction.
Switching between accessories is also a breeze, as the WorkPro has a red button that you press down to lock the Rotary tool so you can safely remove and replace bits with ease. Everything you need is included, 1 Allan key, and one small wrench to tighten and loosen the drive bi shaft.
The WorkPro Rotary tool cut through PVC piping with ease and it was very easy to maneuver in tough spaces. The gel grip handle also made it very sturdy to operate. We even used it to polish the ends of brass piping before soldering them together.
My wife now wants me to re-do the kitchen chairs, which are wood and I see this WorkPro coming in very handy for that project too, plus many more around the house!
If I had only one con that I didn't like about the WorkPro is that it needs a longer cord! Nonetheless, I highly recommend The WORKPRO Rotary Tool Kit for anyone looking to invest in a rotary tool.
I now have my eye on some other Workpro products!
About WORKPRO
Since 1992, WORKPRO was developed by Hangzhou Greatstar Ind Co., Ltd, which is one of the largest tool manufacturers and suppliers in Asia. With more than two decades of research and testing, WORKPRO has designed and manufactured a full range of hand tools for home users and DIYers. Today, WORKPRO not only takes over markets in more than 100 countries, but has also changed the idea of Made in China by its excellent quality and incredible innovative products.
Sticking to the concept of details leads to their success. WORKPRO is looking forward to building up a tools empire for all of our users. A tool empire of great price, great quality, great services.
Purchase the rotary took kit via Amazon.ca.