Tomorrow is May the 4th. For many of us, it is just another day that brings us closer to the weekend. But for fans of Star Wars,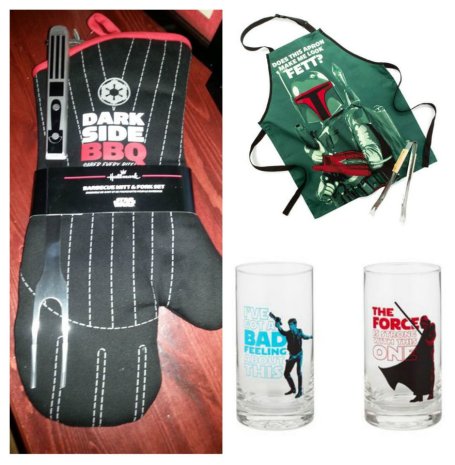 such as my friend Chuck and my husband Shawn, it is a celebration of all things "Star Wars."  To help celebrate Star Wars Day, Hallmark has a large offering of Star Wars gear.
Hallmark brings the wit and fun of the characters to life with products that provide the perfect way to connect multiple generations of Star Wars fans.
To start the party off right, Give the Star Wars™ fan in your life this Boba Fett™ grilling "armor and weaponry" to use while cooking up something legendary.
Resembling the power of Darth Vader, the dark side grilling mitt and light-saber fork are perfect for any super grilling fan.
With so many gifts for the home, mega fans can spread Star Wars™ magic to every room of their house.
Need  Star Wars™ in your kitchen? This collectible two-piece set of glasses includes a glass featuring the legendary Jedi Master™ Yoda™ and another featuring the hero Luke Skywalker™.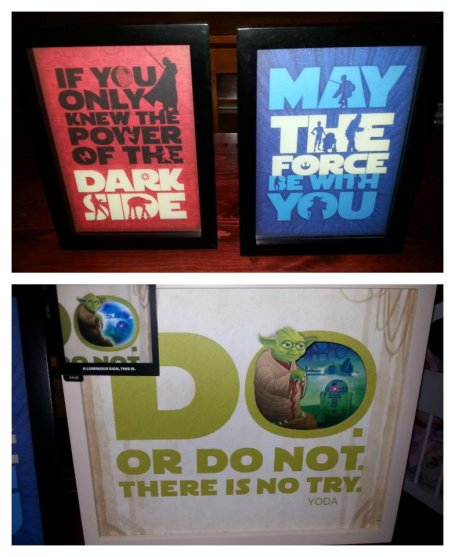 Not the Jedi you should be? Indulge your Dark Side with this handsome framed print that's perfect for home or office. Silhouetted images of the Death Star™, Darth Vader™, Emperor Palpatine™, a TIE Fighter™, Darth Maul™, Stormtrooper™, AT-AT Walker™ and the Imperial crest add a decidedly villainous touch to the familiar quote.
Perhaps you prefer to embrace the light side of the Force. Rebel allies will love this framed quote with silhouetted images of Luke Skywalker™, C-3PO™ and R2-D2™, Chewbacca, Han Solo™, Princess Leia™, Yoda™ and the Alliance Starbird insignia.
Both pictures will fit perfectly in the man cave, or your child's bedroom.
Display your Rebel alliance with this lighted framed quote. Features characters Luke Skywalker, C-3PO, R2-D2, Chewbacca, Han Solo, Princess Leia and Yoda. It's perfect for the man cave or office.
For the littlest Star Wars fan comes BB-8, the cutest droid in the galaxy. Now your child can add a pocket-sized version of this heroic new friend to their itty bittys® collection.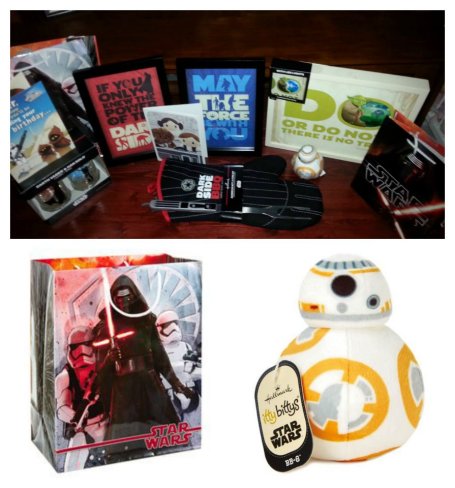 Don't forget the gift wrap and cards. Hallmark carries a wide selection of Star Wars themed gift wrap and cards featuring iconic Star Wars characters that will give you the power of using the right words for every occasion.
If you are an avid fan of Star Wars or know someone who is, get yourself or them a Star Wars gift from Hallmark. Hallmark carries a number of cards, Keepsake Ornaments, decor, and more. As you would expect, many of the Star Wars products are of memorable characters like Darth Vader, Yoda, and Boba Fett. The complete selection of Star Wars items can be found in Hallmark Gold Crown stores. With lots of great Star Wars items, May the 4th be with you!
About Hallmark
For more than 100 years, privately held Hallmark has been dedicated to creating a more emotionally connected world. In the U.S., products offered by Hallmark Greetings, Hallmark Retail and Hallmark Home & Gifts can be found in more than 40,000 retail accounts including mass retailers, Hallmark Gold Crown® stores and online. Hallmark's family of companies also includes Crayola®, maker of creative art tools and toys, Crown Center, a mixed-use entertainment, office and residential district in Kansas City, and Hallmark International, which offers products in more than 30 languages available in 100 countries. Hallmark also is a majority stakeholder in Crown Media Holdings, Inc., which owns and operates cable television's Hallmark Channel and Hallmark Movies & Mysteries. Headquartered in Kansas City, Mo., Hallmark employs more than 27,000 people worldwide. For more information, visit www.hallmark.ca