The era of the leave-in meat thermometer and the pop-up turkey button are well behind us. Help dad cook the turkey to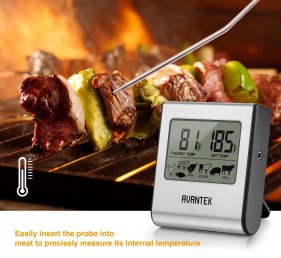 perfection this upcoming Christmas with the AVANTEK Digital Meat Thermometer.  It will give him a level of precision that wasn't possible before.
The wife and I own all kinds of nifty cooking gadgets. One thing we didn't own was a digital meat thermometer. Now that I am using the AVANTEK Digital Meat Thermometer in our kitchen, I will definitely be purchasing a 2nd one as a gift for my recently wed son.
The AVANTEK Digital Meat Thermometer comes with 3 modes to insure your food comes out perfect every time.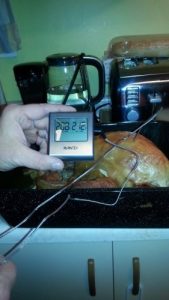 The first mode is a "Cooking Mode. " This setting is pre-programmed with the recommendations of the USDA. This ensures that you cook your meat to the proper temperature and that its safe for consumption.
As someone who previously spent many years working as a sous chef, I can tell you that failure to cook meat thoroughly can cause salmonella and other food poising. While chefs like myself seem to intuitively know when meat is ready, getting the prefect degree of doneness, can involve a lot of guesswork for a fairly new cook like my son. With this digital meat thermometer, the majority of the guesswork will disappear.
The second mode is "Timer Mode." The Digital kitchen timer counts down from 23 hours, 59 minutes and 59 seconds and will beep when it reaches 0. Most of us use timers to set intervals for basing, priming,  flipping or to let  us know when our dish is finished.
The third mode is "TEMPERATURE RANGE."  This lets you know that your food is at its ideal temperature or that you need to adjust the temperature. This thermometer measures food temperatures from 32 ˚F to 572 ˚F (0 °C to 300 °C). I  find it delivers very high accuracy, and you can set it for either Fahrenheit or Celsius.
The thermometer is also very easy to use. Simply stick the probe into the thickest part of the meat to check its internal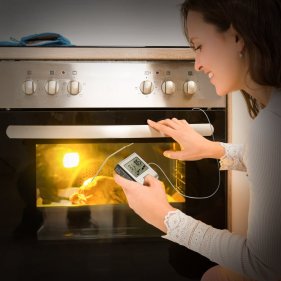 temperature.
You can opt to leave the probe inside your meat while cooking. Stick the probe into the thickest section of the meat and run the cable outside of the stove. The cable is thin, but durable, and won't interfere with your stove door, or let heat escape. The mesh cable is made of stainless steel material, instead of silicone, making it extremely durable.
The thermometer has a very easy to read LCD screen, and a magnetic back. You can stick it to the side of the stove to monitor temperature. it is handing when using the timer mode.
The digital meat thermometer also offers a quick guide on the side, which is a nice touch. Therefore, you're not  googling how long to cook a roast beef or a turkey, etc.
When it comes to performance for the price, you can't go wrong with this little gem. Why not order yourself or the cook on your Christmas list a AVANTEK Digital Meat Thermometer. Shop Amazon.ca.