A good Botox will cost you up to $800 and endless pain. In addition you must do regular Botox's in order to maintain a wrinkle-free face. No one enjoys bearing several injections to ones face. These injections can cause swelling, inflammation, swelling, redness, bleeding, bruising, red welts, dizziness or even fainting. Biox is a pain free alternative! Biox is a combination of intense anti-wrinkle and lifting treatments that can replace your need for Botox injections.
See our full review of the Premier Dead Sea BIOX line:
BIOX ULTRA Intensive Age – Defying Serum
Use this serum under a moisturizer or mask to give a boost of results to the skin. It is enriched with Dead Sea minerals, mineral salts and firming properties. These ingredients soften and lift skin for a more youthful look. Use twice daily, in the morning and evening. Gently massage the serum into your skin in soft, upward motions.
The serum is made of Watercress Extract, which alleviates inflammation and imperfections, aloe Vera, which is a scar tissue healer and vitamin E which renews and softens ones skin.
One reason people opt for Botox is because it works immediately. The Biox line also works immediately by dramatically reducing wrinkles and sagging skin.
The serum retails for $549.99 and will work well with "BIOX ULTRA Intensive Age Treatment Cream."  The cream tightens the skin and gives it a natural glow. It should also be matched with "BIOX Intensive Age Treatment Eye Cream Gel" The gel will work on tired eyes to restore the delicate skin around the eye area, while lifting, firming and brightening the under eye area. The eye cream gel also features Dead Sea minerals and salts, which produce a firm skin, radiant, and a youthful look.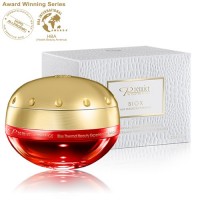 BIOX ULTRA Thermal Beauty Experience Mask
This mask gives an immediate lifting effect, which helps strengthen and tighten skin by increasing blood circulation. Therefore, supporting healthy skin cells and giving cleansed, exfoliated, and purified looking skin results. Over a damp skin, massage a thin layer of the mask over your entire face, avoiding the eye area. Leave it on for 3 minutes before rinsing with warm water.
If your skin routine requires you to use this product, you can use it with a combination of "BIOX ULTRA Intensive Age-Defying Serum." By applying this regenerative, firming serum, you'll continue to encourage the natural synthesis of collagen and elastin in the skin. Be sure to use the "BIOX ULTRA Intensive Age-Defying Eye Mask," which will rejuvenate and brighten the eye area.
BIOX ULTRA Intensive Age – Defying Eye Mask
The eye area is usually the hub of wrinkles. This is due to the area being the most sensitive part of the body. Therefore, it is the first to show our age. This gentle formula fortifies this delicate area and removes wrinkles. It contains refreshing elements of Liposome Complex, Aloe Vera, and Dead Sea salt.
This product retails for $549.99. A little bit goes a long way, as you only apply it twice a week. For quicker results, you apply it and leave it on overnight and wash off in the morning. If you feel uncomfortable doing this, then you can apply it only for 10 minutes, then rinse off with warm water.
The BIOX ULTRA Intensive Age-Defying Eye Cream  works well with the eye gel. Use the cream to diminish eye area puffiness, dark circles, and wrinkles.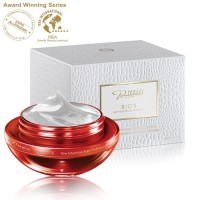 BIOX ULTRA Intensive Age – Defying Cream – Age Treatment Complex
This cream retails for $549.99 and is the final touch in the BIOX ULTRA Treatment. The cream works with collagen and elastin, therefore keeping skin tone and firm. Use the serum under a moisturizer or mask to give a boost to the skin. For best results, use this cream together with "BIOX ULTRA Intensive Age-Defying Serum."
For in-depth tips on getting quick skin beauty results be sure check out the following article on Premier Dead Sea published at Jerusalem Post.
The following is some general tips on achieving quick results:
Always apply cream or lotions to your face in soft upward motions. Applying in downward motions increases sagginess to your skin.
Do not mix serums, lotions or creams without professional advice. You cannot use some ingredients together, as they can irritate the skin and cause negative reactions.
Use non-acidic soaps when washing your face and always wash you face twice a day.
Use warm water to wash your face, especially after you have applied treatments or after wearing make-up.
Read reviews of Premier Dead Sea to learn more about the products and users results.