Green tea is good for your health, but did you know that it's also helpful in getting glowing skin? Green tea contains huge
amount of antioxidants. It is common knowledge that antioxidants works wonder on ones skin and body. They help to make the skin look young and fresh. For the woman who loves some zen this Christmas, why not give them the ultimate gift of tranquility with Fuji Green Tea™ Ultimate Luxuries gift set from the Body Shop.
Inspired by the traditional Japanese Green Tea Ceremony, The Body Shop has created a reviving detox ritual for your skin with the new Fuji Green Tea range. The green tea used in this body product line comes from the Mount Fuji region of Japan. The finest shoots of the green tea are used to infuse the products in this refreshing and highly addictive range.
The set contains a 250ml shower gel, 200ml body butter, 200ml body sorbet, 250ml body lotion, 50ml body scrub and a 100ml cologne, all of which smells crisp, light and rejuvenating!
The body wash is The Body Shop's standard luxurious formula, with a great lather that leaves skin smooth to the touch. The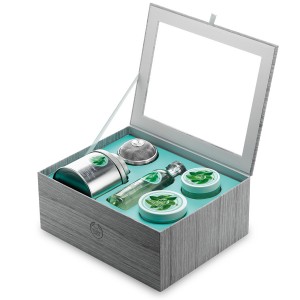 Body Scrub (also unique to this line) is  in a gel base and great to take with you to the gym.
Infused with whole green tea leaves,the Fuji Green Tea™ Body Butter and Fuji Green Tea™ Body Lotion are high in antioxidants and replenish skin with pure moisture. The Sorbet is a rather thick non greasy moisture, that actually goes on light and rubs in well. The Body Lotion is a Body Shop favorite, always available in a number of scents. It offers a medium amount of moisture that is long-lasting. The Body Butter is, as you probably know a more intense moisturizer and my personal favorite. It goes on extremely thick, and lasts in both moisture and scent.
Finish off the routine with the Fuji Green Tea™ Eau de Cologne, delivering a refreshing scent to relax the mind.  The cologne is the perfect blend of green tea, bergamot, lemon and mandarin top notes with a floral heart of camellia, jasmine and violet. Refreshingly light and crisp, it's a classic scent for daytime sophistication.
This luxurious set retails in stores for $60.00 and comes all wrapped up with a beautiful red bow ready for gift giving. I'm pretty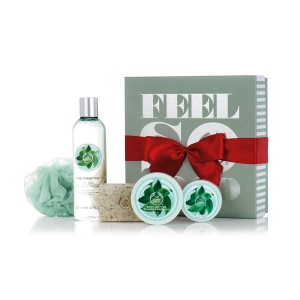 sure it will be a nice surprise for my soon to be daughter-n-law during gift unwrapping. Shh, don't tell her!
You can purchase these products individually as well and in the Fuji Green Tea™ Festive Picks Gift Set and Fuji Green Tea™ Deluxe Gift Set.
If you're looking for a new scent or some new body products to add to your roster I highly recommend checking the new Fuji Green Tea line out.
Best of all, when you give a gift from The Body Shop, you're giving more.  All of The Body Shop gifts contain Community Fair Trade ingredients which help communities around the world.  They are gifts that truly give twice.
While you're in the giving spirit, so is The Body Shop through their partnership with the international charity, WaterAid, which helps transform lives through access to safe water. For every specially selected gift set bought, WaterAid can provide a family in Ethiopia with one day of safe water*.
For over 650 million people across the world, access to safe water is not even possible, and around 1,400 people die each day from diseases caused by dirty water and poor sanitation. Discover more about The Body Shop's WaterAid Charity Initiative.
Shop: thebodyshop.ca