When you sit down with a warm cup of tea, there's nothing quite as comforting as having a little something sweet on the side. Tea and dessert have gone hand-in-hand for centuries across numerous cultures around the globe. It's not just about satisfying your sweet tooth; it's about finding the right balance of flavors that complement each other, enhancing the overall experience of your tea time.
Whether it's a morning pick-me-up or an afternoon break, choosing the perfect dessert to go with your tea can turn a simple indulgence into a delightful ritual. In this article, we'll explore eight simple and delicious dessert recipes from around the world that are perfect for pairing with your favorite brew. From the buttery goodness of a well-known classic to lighter options that won't weigh you down, these dessert recipes are sure to make your next cup of tea feel like a special occasion.
1. Traditional Russian Tea Cakes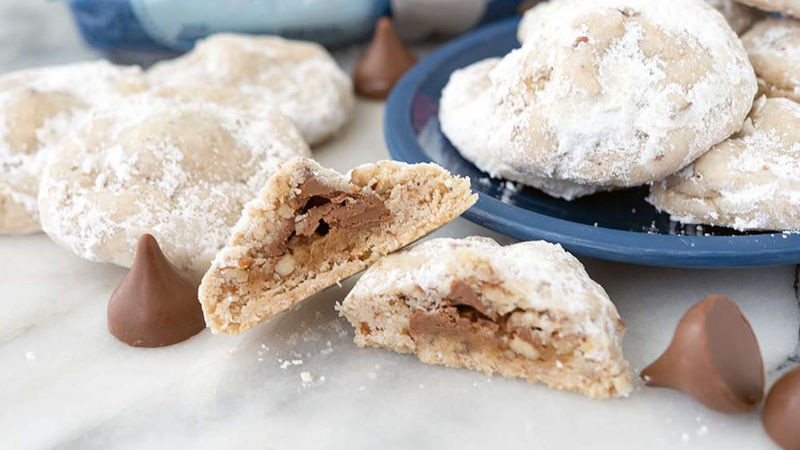 Photo from pillsbury.com
One of the most beloved pairings with tea is the traditional Russian tea cakes. These small, round cookies crumble pleasantly with each bite, boasting a rich, buttery flavor that melts in your mouth. The joy of these cookies lies in their simplicity, as they require just a handful of ingredients: butter, flour, powdered sugar, vanilla, and nuts – typically walnuts or almonds.
To make these delightful traditional Russian tea cakes, begin by creaming together a cup of softened butter and half a cup of powdered sugar until the mixture is light and fluffy. Mix in a teaspoon of vanilla extract to add a subtle depth of flavor. Gradually blend in two and a quarter cups of all-purpose flour and a pinch of salt, then fold in a cup of finely chopped nuts.
Once the dough comes together, chill it in the refrigerator for about an hour. This step ensures that the cookies hold their shape and have a tender texture. After chilling, roll the dough into one-inch balls and place them on a cookie sheet. Bake them in a preheated oven at 400°F (205°C) for 10 to 12 minutes, or until they're just starting to turn golden.
While they're still warm, roll the cookies in additional powdered sugar, which not only adds sweetness but also gives them their signature snowy appearance. These Russian tea cakes are best enjoyed with a strong black tea, which complements their richness without overpowering the delicate flavors.
2. British Scones with Clotted Cream and Jam
Across the pond, British scones reign supreme as the quintessential tea-time snack. Unlike the Russian tea cakes, scones offer a slightly denser texture, but they're still wonderfully tender and flaky. They serve as the perfect vehicle for the rich clotted cream and the sweet burst of jam.
The basic scone dough is made by sifting together two cups of flour, a tablespoon of baking powder, and a pinch of salt. Cut in a quarter cup of cold butter until the mixture resembles coarse crumbs. Stir in a third cup of sugar to sweeten the dough. Then, gently mix in three-quarters of a cup of milk until just combined.
Turn the dough out onto a floured surface, knead it lightly, and then pat it into a round disc. Cut the dough into triangles and bake at 425°F (220°C) for about 15 minutes. Once they're golden and risen, let them cool slightly before slicing them in half and serving with a dollop of clotted cream and your favorite jam.
Scones are versatile; they can be paired with almost any tea, but a classic choice would be Earl Grey or English Breakfast. The bold flavors of these teas cut through the creaminess of the scone, creating a harmonious balance on the palate.
3.French Madeleines – Petite and Perfect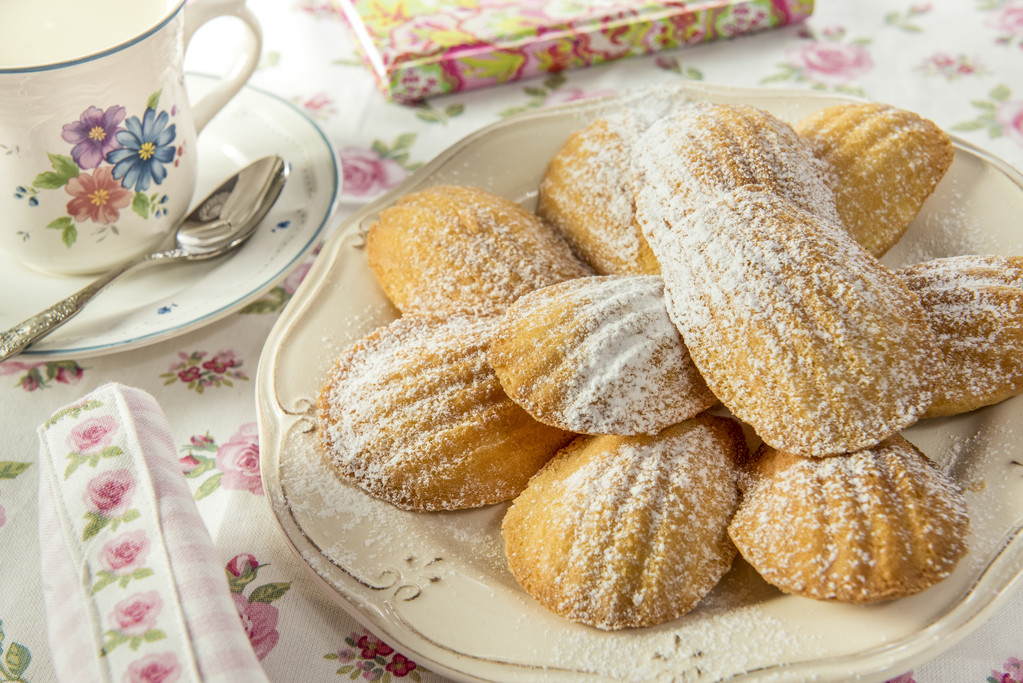 Madeleines are the little gems of French baking. These petite, shell-shaped cakes have a light and spongy texture that pairs wonderfully with a wide range of teas. The classic madeleine is delicately sweet with a hint of lemon zest, which gives it a refreshing flavor that's not too overwhelming.
To whip up a batch of madeleines, start by beating three large eggs with three-quarters of a cup of sugar until the mixture is pale and frothy. Fold in a cup of flour, a teaspoon of baking powder, and a pinch of salt. Add the zest of one lemon for that signature citrusy note. Melt a stick of butter and let it cool slightly before gently folding it into the batter.
Fill the madeleine molds about three-quarters full, as they will puff up during baking. Bake them in a preheated oven at 375°F (190°C) for 10 minutes or until they spring back when lightly touched.
Madeleines are at their best when served fresh from the oven, with a light dusting of powdered sugar. They're delightful with a cup of herbal tea or a lightly oxidized oolong, which won't overpower the delicate flavors of the cakes.
4. Matcha Green Tea Cookies – A Japanese Twist
Matcha green tea cookies are a modern take on these classic tea-time treats, blending the ancient flavor of matcha with the familiar comfort of a cookie. The earthy taste of matcha powder adds a unique twist and a beautiful green hue to the traditional cookie dough.
For these cookies, you'll need one tablespoon of matcha powder, two cups of flour, one cup of softened butter, and three-quarters of a cup of powdered sugar. Start by beating the butter and sugar together until they're creamy. In a separate bowl, whisk together the flour and matcha powder, then slowly mix this into the butter mixture until a dough forms.
Roll the dough into small balls and flatten them slightly on a baking sheet. Chill the cookies in the fridge for about 30 minutes before baking to help them keep their shape. Bake in an oven preheated to 350°F (175°C) for about 12 minutes. The result? Delicate cookies with a crisp edge and a soft center.
These cookies pair well with a simple, steaming cup of green tea, as the similar flavors complement one another nicely.
5. Indian Chai Masala Pound Cake
Taking inspiration from the spiced milk tea of India, a chai masala pound cake infuses traditional cake with the warm spices commonly found in chai tea. This cake is moist, dense, and full of comforting spices like cinnamon, cardamom, and ginger.
To make this pound cake, cream together one cup of butter with two cups of sugar. Add four eggs, one at a time, ensuring each is well incorporated. In another bowl, mix two cups of flour with one teaspoon each of baking powder, ground cinnamon, ground cardamom, and ground ginger. Gradually add the dry ingredients to the wet mix, alternating with one cup of milk.
Pour the batter into a greased loaf pan and bake at 350°F (175°C) for about 60 minutes. A skewer inserted into the cake should come out clean when it's done. The spicy flavors of this cake make it a perfect match for a strong black tea, which will help cut through the sweetness and complement the spices.
6. Moroccan Mint Tea Infused Chocolate Truffles
Chocolate truffles with a hint of mint tea offer an indulgent, melt-in-your-mouth experience. The refreshing taste of Moroccan mint tea cuts through the richness of the chocolate, making for a surprisingly light treat.
For the truffles, you'll need to steep two bags of Moroccan mint tea in half a cup of heavy cream. Once the cream is infused with the tea, strain it and heat it again until it's just about to boil. Pour the hot cream over eight ounces of finely chopped dark chocolate and let it sit for a few minutes, then stir until smooth.
Chill the mixture until it's firm enough to shape into balls. Roll the balls in cocoa powder or crushed