In 2022 alone, American homeowners spent $567 billion on home makeover projects. However, major home repairs require professional assistance. Qualified, experienced contractors have the right skills to remodel your humble abode as per your specifications. Hiring these experts saves you time, money, and precious resources. But the trick is finding the right company for the job.
Here are some tips for hiring a capable home remodeling expert near you. Make sure you go through all of these steps:
Look for recommendations
Many people usually do a quick Google search to find reliable home repair experts. Ensure you're searching by using your city's name as a keyword. Also, ask your friends for recommendations. They must have worked with a domestic remodeler before and can give you suggestions. Check with the National Association of the Remodeling Industry (NARI) to look for trusted names.
Determine what you want
Ask yourself this question: "What sort of renovations are you planning?" Some homeowners might want an exterior makeover, while others could be looking for major reconstructions. Maybe you plan to make your house more spacious, transform a spare room into a home office, or install energy-efficient lighting fixtures. Data shows that 27% of homeowners tackled bathroom renovations in 2022, making it the most popular home reno project of the year. So, hire relevant experts to get the job done.
You can find reliable bathroom remodeling experts in your area online by using the right keywords in the search bar. They can replace your bathtub, convert it into a shower, install a new vanity, or add modern countertops to give your bathroom an elegant, comfortable façade.
Check their credentials first
After finding some names online, you can validate their credibility by looking for these three things:
Reviews: Look for reviews and testimonials from previous customers. Many companies display these testimonials on their websites and you can also check for reviews on other platforms. It is also noteworthy that a 5/5 Google rating is worthless if it's based on a handful of reviews. Similarly, a 4/5-rated company is credible if it's been reviewed by hundreds of people.
Licenses: Only work with licensed contractors who provide insurance for their employees. So, a home reno with no license to work in your city is bound to do a bad job. Contact DCWP and ask them whether a certain contractor is licensed or not. Don't bother to contact unlicensed home repairs experts.
Accreditation: A BBB-accredited home repairs company with A+ ratings means their services are trustworthy and worth your consideration.
Remember to get at least three bids from different contractors and compare their credentials. Maybe, you'll realize that a low-rated remodeling business has better reviews/testimonials from customers.
Do some phone interviews
After assembling a brief list of somewhat credible candidates, give them a call. Ask them for a quote on the reconstruction job and listen carefully to their answers. Notice how they respond and answer your queries. Ask them if they have taken on a similar project in the past. Ask for financial references and a list of satisfied previous clients. Also, ensure they don't have too much work on their hands. After that, you can shortlist the most suitable candidates to remodel your house.
Meet the shortlisted experts
You will shortlist suitable candidates after the initial phone interview. This face-to-face meeting helps to ascertain the behavior and personality of the people working at the company. Ensure you're more than comfortable dealing with your contractor. Go with your gut and always trust your instincts.
Don't forget that home reno scams aren't uncommon; 1 in 3 homeowners have fallen victim to these scams. So, you must ensure your contractor is available, committed, and professional.
Always put it all in writing
If your contractor hesitates to make a written contract for you, it's a major red flag. Everything needs to be in writing, i.e., your home repair requirements, the contractor's responsibilities, the payment schedule, the material needed for the job, and what happens if there's a conflict between you two. A written contract also discusses proof of liability insurance, budgetary limitations, and a timeline.
When the contractor gives you a copy of the contract, read it carefully and look for hidden charges, dishonest conditions, or any other details you might have not agreed to when negotiating.
Only pay with a paper trail
If your contractor asks for a huge cash deposit in advance, you may be dealing with a scammer. Avoid paying upfront if the home reno expert asks for a hefty amount. Don't pay them in cash; use a credit card to create a paper trail. If they ask you to pay for supplies, store these supplies at your home and ask the contractor for their receipts. Creating a paper trail helps you regulate the whole process.
Also, create payment schedules with your contractor. For instance, you can pay the contractor 15% of the agreed-upon amount when the contract is signed, keep paying them installments over time, and finish paying off the entire amount when the construction work is finished successfully.
Anticipate minor setbacks
Home remodeling isn't mathematics; it's unpredictable and many factors can delay your timeline and increase your budgetary requirements. In fact, 85% of all homeowners encounter some sort of delay. It's not usually the contractor's fault. A delay can occur because of:
Weather conditions
Not getting permits in time
Pre-existing problems with your house
A conflict with your subcontractor's schedule
Unexpected lead times on lighting/plumbing fixtures
These factors can easily slow down even speedy projects. Inaccurate estimations or remedying a DIY error can also contribute to unexpected delays.
Conclusion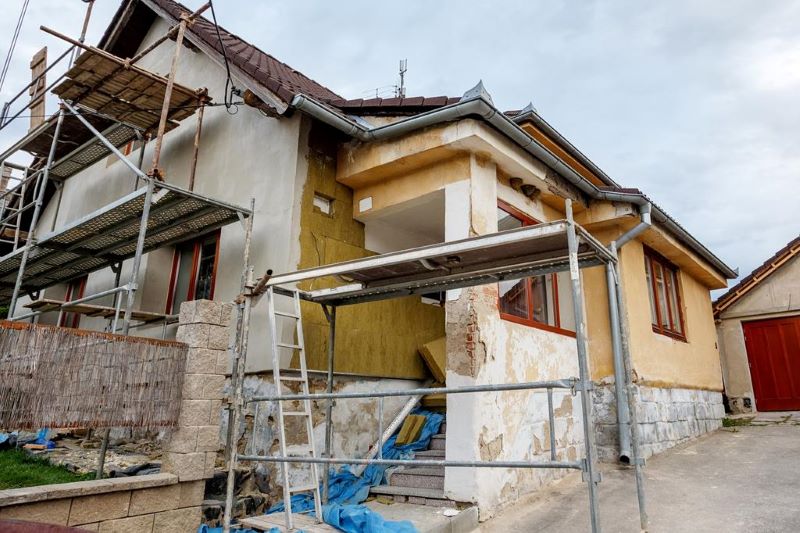 This blog shares a few tips to make the hiring process much easier and ensure that your home repairs are in capable hands. Determine your domestic refurbishing needs, look for recommendations, and check every candidate's credentials. Shortlist these candidates, discuss the payment schedule, and start the project. Analyze all the info you gather and make an informed decision.