Oklahoma City, the 20th most populated city in the U.S. and the 8th largest in the South mirrors the nationwide shift in bathroom design. In 2022, homeowners overcame pandemic-related challenges to bring their dream bathrooms to life. Now, as we step into 2023, that trend continues to grow. So, whether you're planning to build a new bathroom in Oklahoma City or elsewhere or sprucing up an old one, it's worth exploring the top bathroom design trends experts predict for this year.
Terrazzo: The Resurrection of Retro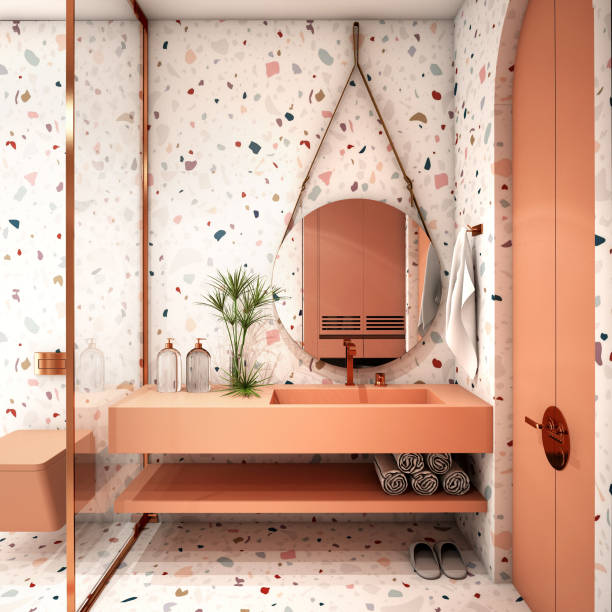 An exciting trend sweeping through bathroom design is the revival of terrazzo. This retro style, characterized by its colorful chips of marble, quartz, granite, and glass embedded in a polished concrete base, is making a vibrant comeback. A quick look at bathrooms in modern homes, and you'll easily spot this timeless element giving bathrooms an enticing, lively touch. As this trend continues to gain popularity, homeowners are finding ways to incorporate terrazzo into their decor, from floors and walls to countertops and accessories. If your shower needs a facelift, consider bringing in a touch of nostalgia with terrazzo. Contact an Oklahoma City shower replacement company for a professional opinion on incorporating this versatile material into your design. This trend brings a unique blend of old and new, allowing homeowners to create trendy and timeless spaces. A great way to spruce up your bathroom's aesthetic while keeping it practical and durable.
Embrace The Bold: A Revival of Eye-catching Tile Designs
Bathroom design is all about boldness and self-expression. A hot trend catching everyone's eye is the comeback of vibrant tile designs. Gone are the days of subtle, minimalist styles; today's bathrooms burst with personality thanks to eye-catching tiles. These tiles, sporting lively patterns, and daring colors, transform bathrooms into vivid sanctuaries. You'd be surprised by the versatility these tiles offer. From intricate geometric designs to dramatic floral motifs, they become stunning focal points, setting the mood of the entire space. More homeowners opt for this trend for its aesthetic appeal and because it allows them to express their individuality. Like art, these tiles tell stories and make statements, lending every bathroom a unique vibe. This trend isn't just about looking good; it's about feeling good in a space that reflects you. Bold, expressive tile designs are here to stay, making bathrooms more lively, more personal, and certainly more exciting than ever before.
Brightening Up Your Space: The Comeback of Colorful Sinks
The bathroom design world sees a vibrant shake-up, with colorful sinks emerging as a hot trend. Gone are the days of dull, monochrome sinks that blend into the background. Now, homeowners choose sinks in bold, bright colors to make a stylish statement. Picture a sparkling sapphire blue sink against white tiles or a vivid red basin contrasting with light wood fixtures. Imagine how a bright yellow sink can warm a cool, minimalistic bathroom. Not only do these colorful sinks add a fun splash of personality to your bathroom, but they also create an eye-catching focal point. The best part? A wide range of hues is available, so there's something to suit every style. From subtle pastels to vibrant primaries, the choices are limitless. So, why stick to the ordinary? Dare to be different and inject color into your bathroom with a trendy, colorful sink!
The Era of High-Design Powder Rooms
The bathroom design has shifted. It's all about the powder room now – a space with a huge impact. Think of a small but mighty space that leaves guests in awe. This trend is changing the way we see bathrooms. Instead of basic, they are becoming highly designed and creative. Every inch matters here. Homeowners are boldly picking daring colors, striking wallpapers, and eye-catching light fixtures. Fancy sinks, such as vessels or trough sinks, are in high demand. And we can't forget about mirrors. Big, ornate, or uniquely shaped mirrors add charm. Metals like brass and copper are bringing warmth. To top it all off, art pieces find their way into powder rooms, turning them into mini galleries. It's a fresh, fun spin on bathroom design that is catching on quickly. The powder room is small but important – a stylish space setting the tone for the house.
Bespoke Vanity Designs: Repurposing with Style
The trend in bathroom design is all about personal touch, and it starts with bespoke vanity designs. No longer are homeowners stuck with stock designs; they're getting creative, turning old dressers into one-of-a-kind bathroom vanities. They're functional and carry a story, making your bathroom truly unique. This green approach has become a hot trend, giving a stylish twist to repurposing. Imagine turning an antique sideboard into a vanity! It gives your bathroom an appealing look and makes it stand out. In addition, it's a wonderful way to reuse and reduce waste. This trend combines beauty and practicality, offering an eco-friendly and elegant design solution. With bespoke vanity designs, you add a personalized touch that blends functionality and style, making your bathroom a special place in your home.
Black is Back: Embrace the Dark Side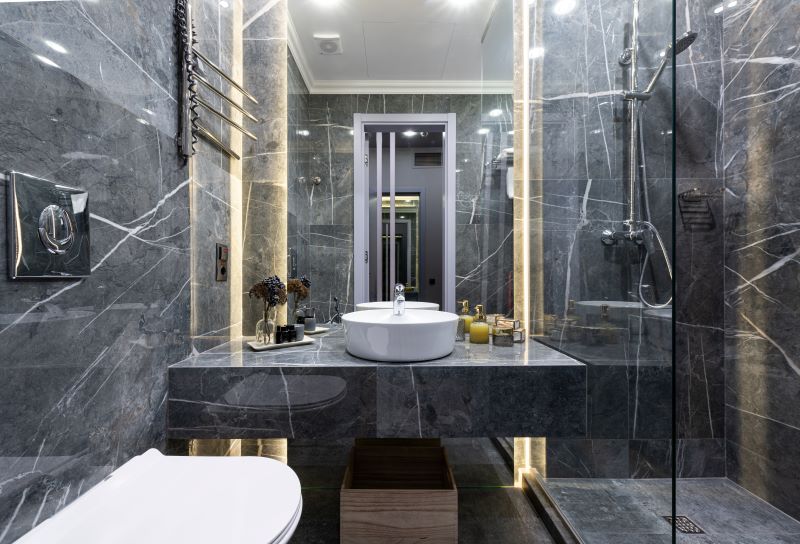 In 2023, bathrooms are getting a stylish makeover with the striking use of black fixtures. This trend, from faucets to showerheads, turns heads in interior design. Sporting this dramatic color, these fixtures bring a fresh and contemporary vibe into any bathroom space. The beauty of black is its standout effect against light-colored tiles, creating an appealing balance between darkness and light. Moreover, black fixtures don't limit your style choices. They're adaptable, meshing well with various colors and aesthetics. So, don't shy away from black if you're considering sprucing up your bathroom. This trend-setting color has proven its power in design, marking it as more than a fad. Let the timeless charm of black transform your bathroom into a space of elegance and modernity.
Conclusion
This year's bathroom trends bring life and depth to our personal spaces. They merge style with function, making our day-to-day rituals even more enjoyable. After all, what could be better than a stylish, practical, and planet-friendly bathroom? It's time to celebrate these designs, reflecting our evolving needs and tastes in the most stunning way.