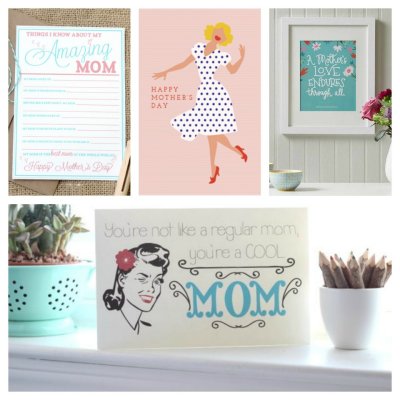 These printable Mother's Day cards are a great, easy, and free way to let the woman in your life know how much she means to you this Mother's Day.
The Amazing Mom card from Kori Clark asks your child to fill in what their mom loves to do. Be it her favorite food, what she works hard at, where she likes to go, and fun activities she likes to do with the kids.
These cards from Family Disney feature the Disney Princesses. Simply print the cards and sign with an inspired note or thank you. Be sure to share your favorite photos and memories all month long by using hashtag #MothersMay on social media.
Creative Mamma has made a brightly colored Mother's Day card that's free for you to print out and give to your mom.
GreetingIsland has Mother's Day cards that you can customize. 

You'll have a blast browsing through all these cards that are absolutely free to print.

 If your mom has a sense of humor she'll love these 4 fun cards from thirtyhandmadedays.com. To make them, just print them out and cut them with a paper trimmer, and fold them down the middle. It's that simple. Thank you Mique.
Head to www.swearlikeamother.com for some fun

printable Mother's Day cards.

Kids can wish their swim-sational moms a fin-tastic Mother's Day with these Bubble Guppies Printable Mother's Day Cards from nickelodeonparents.com.
Download any of these 8 printable Mother's Day cards from  Better Homes and Gardens. Each card is sure to make mom smile.
When it comes to Mother's Day, there are many gift options, but few are better than a hand decorated card. These cards that you can download from lovetoknow.com are super cute. Be sue to grab some colorful products to help inspire your son or daughter's creativity from or good friends at ooly.com.
Find everything you need for your Mother's Day celebration with these 10 free printable Mother's Day cards from Dawn Nicole Designs.
We hope you have enjoyed these free printable Mother's Day Cards. Please feel free to share any other sources you might know of in the comment section.