Whether your ornaments have been passed down from generation to generation or you buy a new Hallmark Ornament each year, trimming a Christmas tree is a timeless family tradition. Now your child(ren) can create their own unique Christmas ornaments that you will cherish year after year with the TreeMendous Ornament Decorator thanks to Hey Buddy Hey Pal creators of the famous Eggmazing Egg Decorator, which debuted on the hit TV show Shark Tank in February 2018.
The TreeMendous Ornament Decorator uses a patent pending design that enables children to craft beautiful plastic ornaments within minutes.
About the TreeMendous Ornament Decorator
The kit comes with everything kids need to make three DIY Christmas ornaments. Included in the box is eight non-toxic markers, the tree-shaped TreeMendous ornament decorator, and three blank ornaments ready to decorate.
Out of the box the Treemendous decorator comes with one ornament already in the holder. Once you insert four AA batteries into the Treemendous decorator turn the decorator on.  Press your marker to the ornament and the maker will do the rest. You can hold the marker in place to create stripes that wrap around the ornament or you can drag it to create more unique patterns and designs.
Once you complete your ornament let dry for thirty seconds. Using both hands remove the ornament from the maker and place the cap back on to the ornament. You are now ready to make your next one.
The TreeMendous Ornament Decorator encourages fine motor skills, creativity, and boasts self-esteem. It takes no coloring ability and with some assistance from mom or dad children as young as two could make their own ornament. Your design always turns out perfectly, because the ornament is always spinning! And the best part – there's absolutely no mess. The ink dries instantly and your decoration is ready to be hung on the tree.
Our Thoughts
The TreeMendous Ornament Decorator makes decorating ornaments a breeze. Miss P enjoyed doing the activity all on her own. She is six and needed no assistance with this DIY craft. And when I say fast-drying, I am not kidding. By the time the holder stops spinning, you're ready to remove the ornament.
There is no smudging and you don't end up with marker all over your hands. I did note some bleeding into the colors. Nonetheless, I love how my daughter's ornaments turned out. This is such a lovely way to have our daughter take part in the holiday tradition of decorating our tree.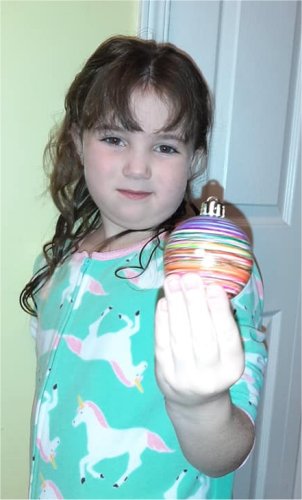 I should note that the battery plate can easily be removed, so supervision is strongly recommended.
A replacement set of eight markers and a set of six ornaments are also available and sold separate.
You can find the TreeMendous Ornament Decorator at www.eggmazing.com.