Perfect For Back To School, Weekend Travels Or Sleepovers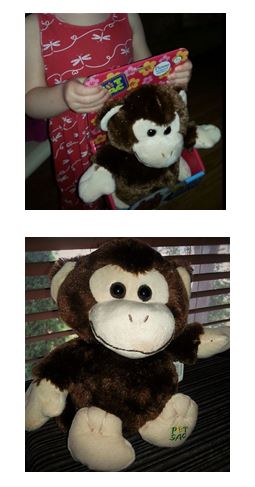 It's hard to believe, but summer will soon be winding down and many children will be headed back to school. That means one thing – Back-to-School Shopping! If your kids need a new backpack this year instead of purchasing a character designed backpack like Dora, Frozen, or Despicable Me, why not purchase a PetSac?
Created jointly by NY-based AHQ and Kick Design, PetSac is the world's first ever plush animal with a full size "Backpack Inside."
The original collection includes nine core animals and six custom backpack prints. Choose White Polka Dots, Blue Paws, Red Plaid or three other charming designs.
Measuring 14″ the fashionably patterned backpack is sufficient for your elementary school child's needs. It is large enough to hold books, notebooks, binders and your child's lunch ( if they take a lunch to school.) Made from ripstop nylon ; the same material parachutes are made of, the backpack is durable to hold up daily use.
The nylon is super easy to clean, so if my daughter's juice is spilled in the backpack, I can simply wipe it clean with a damp cloth.
When my daughter isn't using her back pack, the plush animal serves as a stuffed companion. Converting the backpack into a stuffed animal is simple. All I have to do is stuff the backpack into the back, and then use the tail to zip it up.
While PetSac is recommended for children age 3 and up I would recommend the backpack to be used by a child 4 and up rather than 3, unless you plan to carry the backpack for your preschooler. If they are going to carry their own backpack, and are under 4 then you could always cut the straps on the PetSac and shorten them.
Available in nine different animal friends – kitty, lion, dalmatian, monkey, panda bear, pug, brown puppy, teddy bear and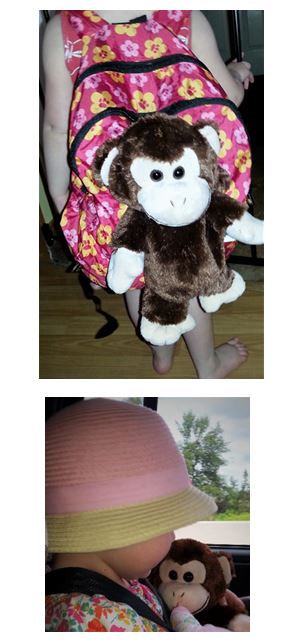 tiger- it was a hard decision for my two-n-half year old daughter to choose which stuffed animal she wanted. It was a tossup between Catpuccino the Kitty, Rory the Lion and Blitz the Monkey. She finally went with Blitz, as she is currently monkey obsessed and Five Little Monkeys is her second favorite song.
When Blitz arrived in the mail, she was so excited that her lack of patience was very dominant. I could not get Blitz out of the box fast enough for her liking.
My daughter is 3'3 and the full size bag sits way below her waist, making it too large for her to carry. So instead of using the bag for preschool, we are going to use it for long road trips and overnight sleep over at her Aunt Kim's house- this way she has both a stuff animal with her and it can carry her pajamas and what not.
A combination backpack, and plush animal, PetSac is just what your child needs to head to school, while carrying a message of conservation throughout the first week back.
"Paige, where did you get the cool Monkey backpack?"
PetSac is available for purchase at PetSac.com and at Walmart.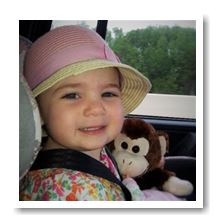 ABOUT ACCESSORY HEADQUARTERS (AHQ)
AHQ is a privately-held company specializing in the design, development, manufacturing and marketing of premier brand and private label handbags and accessories. AHQ provides exceptional handbags across all distribution channels from the most elite department stores and boutiques, to mid-tier and mass retailers. With CFDA in-house design and merchandising talent, sourcing, production capabilities, AHQ is a leading industry resource with a brand portfolio including Christian Lacroix, Catherine Malandrino, Hayden-Harnett, Dressage, Versace 19.69, PetSac and Go!Sac. The company is housed in a state of the art showroom and office space in midtown Manhattan and is led by industry veteran and President, Abe Chehebar.
ABOUT KICK DESIGN
Founded in 1990, Kick Design is a Brand Strategy and Design agency based in New York City. For more information visit their site at www.kickdesign.com.