The New #YouAreWelcome Food Truck Brings Aboriginal Cuisine to Toronto During the TO2015 Pan Am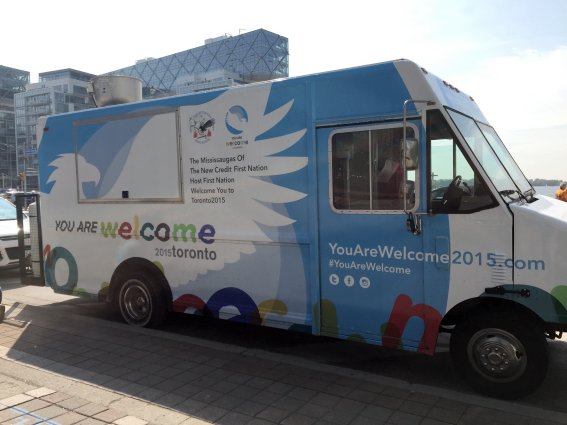 Games
If you plan to visit Toronto this week, keep your eyes open for the #YouAreWelcome food truck. It will be traveling the streets of Toronto and will be stationed throughout the city in neighborhoods like King Street West, Queens Quay, Queen Street East, Trinity Bellwoods Park and Christie Pits.
The food truck launched last Friday to coincide with the Pan Am Games' Opening Ceremony. The food truck will be at Queen's Park Tuesday and in Liberty Village Wednesday. Since the truck will be on the move each day, be sure to follow @youarewelcometo ( #YouAreWelcome) on Twitter for daily location updates.
As the official Host First Nation of the Toronto 2015 Pan Am/Parapan Am Games, the Mississaugas of the New Credit First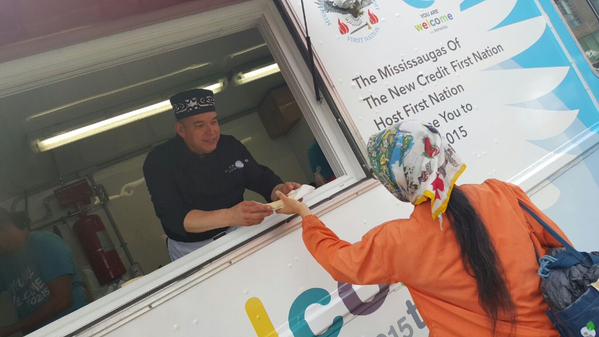 Nation (MNCFN) are delighted to invite you to sample authentic and local flavours. The food truck is a collaboration between Chef David Wolfman, an internationally recognized expert in wild game and traditional Aboriginal cuisine and host of Cooking with the Wolfman on APTN, and the Mississaugas of the New Credit First Nation.
"Food is universal and it brings people together from all different cultural backgrounds," says Chief Bryan LaForme, MNCFN. "We are honoured to officially welcome people to our traditional territory this summer and invite everyone to taste delicious Aboriginal dishes."
The four recipes to be featured on the food truck were developed by Wolfman.
As a special welcome gesture from the MNCFN, lunch at the #YouAreWelcome food truck is covered by exchanging a $5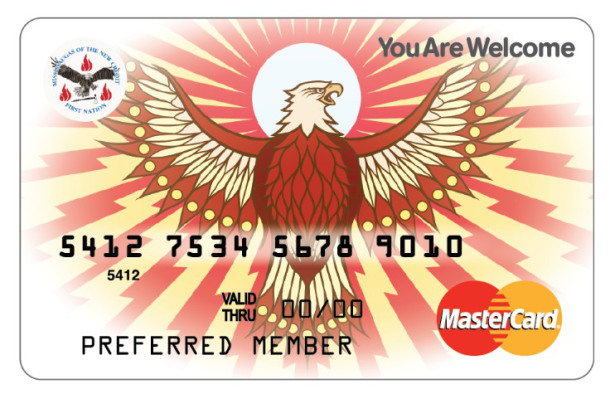 #YouAreWelcome gift card. These gift cards, specially designed by renowned First Nation artist Tracey Anthony, are limited edition and will be handed out by at the #YouAreWelcome Food Truck and sampling team.
Alternatively, gift cards at any value can be purchased online and in select stores as a unique souvenir this summer.
If you are unable to make it to the food truck, no worry, as all the recipes can be easily made at home and recipes can be found on the youarewelcome2015.com website.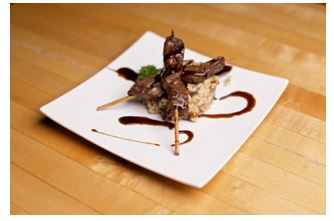 Curried Elk Pastry: Traditional ingredients like elk and sweet potato are paired with international flavours in a delicious curry base
'Nish' Kabobs: "Nish" is slang for Anishnawbe, which means "the people" in Ojibway. These specialty venison kabobs are drizzled with a birch balsamic glaze for a sweet and sour twist.
Smoked Turkey Chili: Taste the campfire with this smoky chili. Local ingredients like pinto beans help to balance the heat and round-out this hearty dish.
Wild Blueberry Bannock: Can be enjoyed for breakfast, dessert or an afternoon treat. Fresh scones are a staple in Aboriginal kitchens. This version brings the taste of summer with fresh, wild blueberries.
For more information on the MNCFN and the #YouAreWelcome initiative, please visit youarewelcome2015.com.
Related articles