Sorry, Mrs. Forgetful! That is not the correct password. Do you often find yourself staring at your computer trying to remember your password? Don't worry, you are not alone! According to a recent online registration and password study, 30 per cent have 10 or more passwords they need to remember. In the same study, it was revealed that nearly two in five people, have had to ask for help with at least one website per month.
In the meantime, internet gurus, popular PC magazines, etc use to tell us to never write our password down. They also gave us lots of additional advice – such as to "use a strong password", "use a different password for each site", "and make it unique", etc. All of which make it incredibly difficult for anyone to keep track of.
As someone who works from home and spends a great deal of time online via different social network sites and my own website, I always have trouble remembering what password belongs to which site.
I think it's time to revisit the "never write a password down" rule, so I am recommending that you purchase your mom a,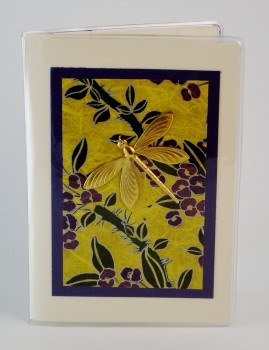 Internet Password Book, from Jade's Menagerie for Mother's Day.
Many experts would now agree, creating a unique, difficult to guess, strong password and then writing it down in one of these handy internet password books is the best route to go. Though " Ellen DeGeneres" and Security researcher- Lysa Myers may still disagree.
But that's OK if they do. I admitted defeat when it comes to my memory long ago; therefore I finally broke down and invested in a password book from Jade's. Jade's Menagerie carries 55 different internet password book cover designs to choose from.

I own the dragonfly password book, which was created with brass dragonfly, linen paper and Japanese washi paper encased in a sturdy vinyl cover, which protects the beautifully designed artwork.
Inside are numerous pages that are all broken down into 5 headings (Financial, Shopping, Travel, Education, Misc.) Within each category are sections where you can write down & record your account information, web page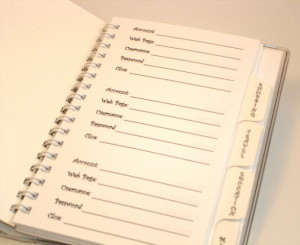 address, username, password and your clue to retrieve your password and log-in information. There is room for 180 entries in total.
Spiral binding allows you to open the book flat, so you can write the full width of each page. Laminate tabs of each category keep information organized and easy to retrieve so mom can spend less time searching and more time stalking you on Facebook.
Intuitively and beautifully designed, as well as being carefully crafted, the Internet Password Book will provide mom with an experience that enables her not overwhelms her.
Writing your passwords in an offline notebook isn't the worst thing mom can do. It's certainly a better approach than using a single, easily crackable password on every site she visits—as many nontechnical users still do. Now, the chances that someone will break into mom's home and find her Internet Password Book is pretty slim. Nonetheless, remind your forgetful mom to keep this list up-to-date and in a safe place.
In addition to the passport books, when you shop at Jade's Menagerie you will also find a variety of other functional art items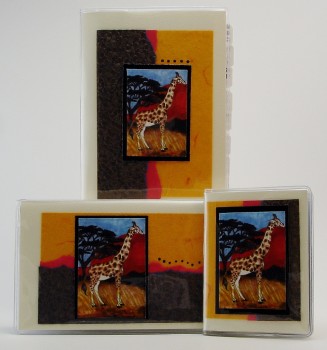 like passport covers, checkbook covers, zippered pouches, address & telephone books, eyeglass & sun glass cases, Kindle e-reader cases and so much more!
American artisan Wanda Allen and her associates of talented artists at Jade's Menagerie have been creating these eclectic pieces since 1989. When you purchase any of these handcrafted, one-of-a kind items from Jade's, your piece is 100% American made in New Braunfels, Texas.
10% of your purchase goes to one of the following charities: Feed the Children, Wounded Warriors Project, Humane Society of the US, American Cancer Foundation and Alzheimer's Association. As a customer you get to choose what charity the 10 % of your purchase will go to.