FeverMates by Mediband is a child friendly fever indicator recommended for children 12 months and up, which allows parents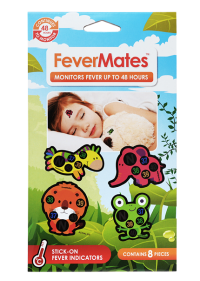 to monitor their child's temperature up to 48 hours. Available in an eight pack, the hypoallergenic adhesive fever indicator sticker is to be applied to your child's forehead, though it can also be applied to the shoulder blades, under the arm or on the chest.
These little stick-on animals work by liquid crystals reacting to a child's body temperature.
After application, you are advised to wait 30 seconds for one of the circle indicators to light up. I applied one to my daughter's forehead and it took over a min for it to turn to a N, which indicated she did not have a fever. This was totally inaccurate as she did indeed have a low grade fever. The N was just faintly visible and not something you could make out if you were checking on your child at night without turning on a light.
For clarification, I also applied a FeverMate to myself, and it recorded that I had a low grade fever of 38. I checked the reading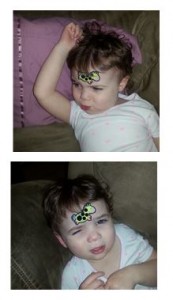 with my thermometer and my thermometer temperature reading was normal.
My daughter loved the animal shapes, and did not mind having the Fevermate on her head- though after the original time of reading was up she kept removing the sticker and placing it back on her forehead. After- one or two removals the FeverMate no longer wanted to stick.
While Mediband recommends the product for children 12 months and up- they do have a warning on the package that the FeverMates do pose a choking hazard. My 30 month old daughter still puts things in her mouth, so personally I would not recommend these for bedtime use for younger children.
While I loved the concept behind FeverMate, this product  sadly failed for me. Disappointed to say I'll stick to monitoring my daughter's temperature the old fashioned way and use my Kidz-Med VeraTemp non-contact thermometer at night. Rectal temperatures are generally thought to be the most accurate for checking a young child's temperature though.
Have you tried Fevermates? What is your opinion?