This contest has now ended

. Thanks to all who entered.
Second Cup #TasteItRateIt Contest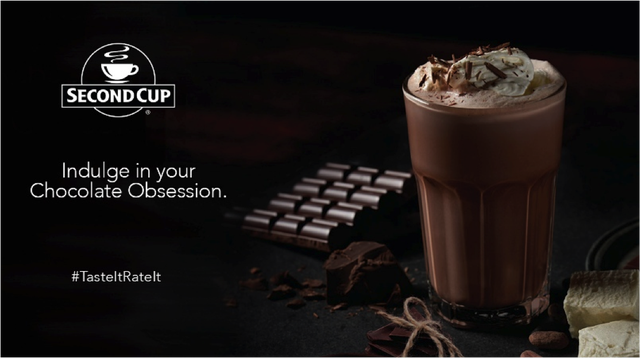 Second Cup is inviting all Canadians to #TasteItRateIt on Facebook for a chance to win 1 of 5 $250 Second Cup gift cards.
Simply visit any Second Cup café from now until February 28, 2015 and indulge in a signature Hot Chocolate. Then, visit the Second Cup Facebook page at Facebook.com/SecondCup and rate their favorite hot chocolate for your chance to win.
Rules
Single entry
Open to Canada residents only
Ages 16 and older
Second Cup café Hot Chocolates are available in three decadent flavours:
Classic Hot Chocolate – Sure to ignite your chocolate obsession, Second Cup's signature Hot Chocolate is a Canadian favourite. A creamy blend of steamed milk and rich chocolate that's delicately handcrafted and topped with whipped cream. The perfect balance of cocoa and milk unite for a delicious taste experience.
Vanilla Bean Hot Chocolate – An indulgent spin on traditional hot chocolate, made with pure Madagascar vanilla and creamy steamed milk.
White Hot Chocolate – A sweet treat with a twist – rich white chocolate blended with creamy steamed milk for a smooth sip.
Cozy Up with Your Sweetheart
Need plans for Valentine's Day 2015? Canadian's leading relationship expert, Jen Kirsch, along with Today's Woman have some ways for you to stay connected with your sweetheart, not just on Valentine's Day, but throughout the winter months.
There are many winter activities to help you keep connected: bundle up and take a romantic walk through the falling snow or visit your local outdoor rink and go skating with your sweetie.

Ice-skating and hot chocolate go together like hugs and kisses

. On your way home, visit your local Second Cup café and warm-up with a cup of their steamy Hot Chocolate.
When picking up your significant other from work, show that you're attentive by pre-heating their seat warmer and grabbing their go-to warm beverage just the way they like it.
Wake up your partner to a special morning treat and deliver breakfast in bed with a fresh baked croissant and a cup of Second Cup Hot Chocolate. Be sure ask the barista to top off your special someone's Hot Chocolate with a chocolate heart drizzle.
Stay home, hibernate by the fireplace or lounge on the sofa together for some marathon movie watching. Be sure to have a giant bowl of popped popcorn on hand and Second Cup's classic hot chocolate.
Have the day off, but your sweetheart has to work? Surprise them with a sweet afternoon pick-me-up. A hot beverage and handwritten note will show that you're thinking of them and that you want to make their day a little bit brighter.
Surprise your Valentine with a cup of Second Cup hot chocolate dressed up with a paper straw "arrow" and a heart-shaped marshmallow. (Instructions at: Valentine's Day Project: Cupid's Arrow Hot Chocolate)
A coffee shop like Second Cup, is a great way to keep warm with your sweetheart on Valentine's Day. Make a point of trying some of Second Cup's other specialties.
About Second Cup
Founded in 1975, The Second Cup Ltd. (TSX: SCU) is a Canadian specialty coffee retailer operating over 345 cafés across the country. All of the approximately 4,000 Second Cup baristas are trained coffee experts who handcraft over 1 million beverages every week, and are committed to ensuring excellence in every cup and the very best customer experience. For more information, please visit www.secondcup.com or find us on Facebook and Twitter.