By Rose

Screen printed with a lightning bolt and the letters ABCD my daughter is rocking out in style in her new tongue-in-cheek, whimsical hat from Little Fit.
Available in pink and black, Little Fit's ABCD Trucker Hat updates a timeless style with a graphic front panel and flat brim. Bringing lightweight comfort to a beloved classic, it is the perfect go-anywhere hat.
With summer soon upon us, I wanted a hat that I would not have to struggle with my daughter to get her to wear. Similar in design to Daddy's Under Armour stretch mesh trucker cap, I have not had to struggle with my two year old daughter even once to keep her ABCD hat on. In fact, she insists on wearing it.
The bill of the hat blocks direct UV rays that strike her face. The bill of the hat also curves down toward her face offering an increased level of shielding for her cheeks. The hat features a breathable mesh back to keep her cool.
The hat is available in three size – Little (4-18 months), Big (18 months to 5 years) or Youth (5-10 years).We chose size Big for Miss P and it fits her nicely, leaving her room to grow.
Unfortunately, as with any baseball style hats, the hat does not provide adequate sun protection to her neck and chin. For this reason, I will be using sunscreen on the face – particularly to the areas the hat does not cover. This is just a little advice for those of you who may have a child like I do, who has decided that the only hat they will wear is a baseball hat.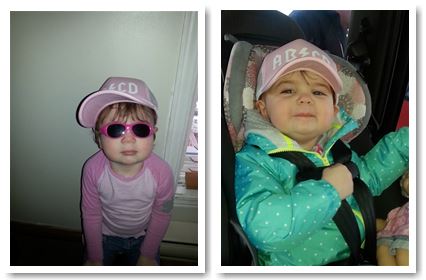 Little Fit manufactures infant, toddler and youth hats that are both durable and stylish. Pay them a visit today at littlefit.com.