Summer fashion is about minimalism, a neutral wardrobe with a pop of personality. From your deck shoes to your blazer,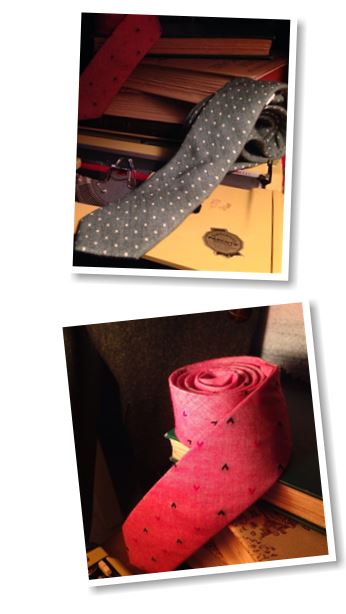 nothing completes your look better than a narrow tie.
The tie is a classic accessory. You can almost always avoid a fashion faux pas when you remember to tie it.
You are always safe with a simple dress shirt and neutral chinos. Adding the tie is a people pleaser, it's the first thing people notice with any ensemble. A narrow tie is the perfect balance between a night on the town and a day in the office- it adds to the impact of a fitted suit or a cotton blazer.
A narrow tie fits every collar when knotted with the four-in-hand. It's natural appearance further adds to your overall look. Remember the acronym K.I.S.S- keep it simply sophisticated. K.I.S.S means, 'skinny,' and subtly patterned, or solid ties. Your tie should either be neutral to anchor your patterned shirt, or have a subtle pattern to add flavour to your crisp look.
My must haves are the 'pin-dot' or the 'club.' The pin-dot is subtle and versatile; it grabs attention without being too loud. The club however, perfectly accentuates your style. Any clean repeated pattern will speak volumes to your wardrobe, its fail safe and effortless.
Join the Skinny Tie Madness at skinnytiemadness.com and remember: Master the four-in-hand, ditch your beefy Father's Day mistake, and purchase a faultless narrow black, a sophisticated narrow pin-dot, and the charming narrow club (clean print).
Fashion Styleguide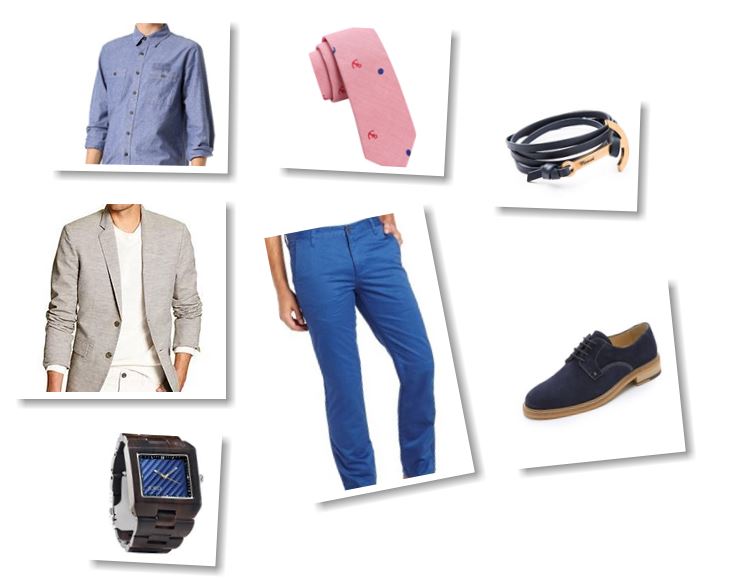 The slim One Eyed Willy tie is definitely an eye-catcher within this combination. Consider pairing a grey blazer with navy blue chinos for a seriously stylish summer look. Complete your look with Timeless Wolverine 1883 oxfords in suede. Don't forget to accessorize!
Get this look:
Coast-Wide chambray shirt.- eastdane.com
Dockers Chino- dockers.com
Grey Blazer- bananarepublic.com
One Eyed Willy Red Novelty Skinny Tie- skinnytiemadness.com
Miansai Anchor Leather Bracelet- neimanmarcus.com
Wolverine 1883 oxfords- eastdane.com
Wood watch- woodwatches.com