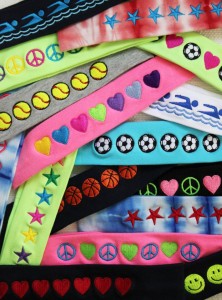 No matter the length of a girl's hair, sometimes it's great to just pull it away from the eyes and forehead. Better than a barrette or a scrunchie, headbands are a very useful hair accessory that has gone back as far as I can remember.
Today, headbands have evolved into a fashion must have. This summer let your daughter's personality shine through with a messaged headband from Logo Loops.
Logo Loops headbands are versatile, functional, and yet fashionable all at the same time. These 2¼" wide themed headbands are ideal for bike riding, camping or strolling the mall with friends thanks to their absorbency. Every Logo Loops headband is made of 90% cotton and 10% lycra for a snug fit. The fabric used allows the band to fit with comfort while maintaining memory and its original shape. Unlike hard plastic headbands, Logo Loops provide a comfortable way of holding ones hair back and adding a stylish flair to any summer outfit.
The cute headbands can be customized to almost any design or logo you like or shop logo loops online store, which has a huge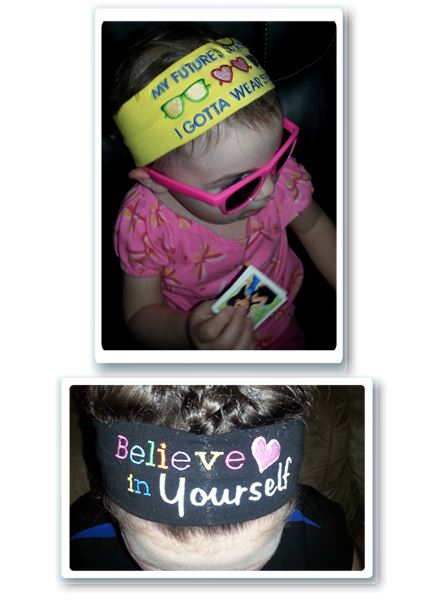 variety of already created designs from season themes to initials, spiritual, sports, sorority and holidays. The themes and slogans are beautiful embroidered for long-lasting wear—no iron-on decals!
Deciding on the hair accessories for my two year old daughter is not an easy task. She dislikes both barrettes and elastics. On the rare occasion she does wear them, she never leaves them in her hair for long. Though she doesn't have a lot of hair yet, hair accessories are great for accessorizing and adding some groom to her short hair style. I found Logo Loops headbands to be the perfect solution for those annoying baby hairs and the best part- she leaves the headband on!
Logo Loops are not just for girls, tweens and teens, but women can enjoy these headbands too. My oldest daughter has a headband obsession, but unfortunately she has an oddly shaped head and a  lot of so-called "no slip" headbands never stay in place. Logo Loops headbands have held her hair steady in place, so there is no annoying fly a ways that limit her physiotherapy workout!  They also work well at absorbing sweat. The fabric is also soft and stretches just the right amount. Plus, she didn't get a headache at all while wearing the headband.
And when the bands get dirty, simply machine wash in cold water with the band flipped inside out, then toss in the dryer at low heat and your head band is ready to wear again.
ABOUT LOGO LOOPS
Since 2010 logo loops, founded by a mom of two daughters with long hair in need of being wrangled, has been producing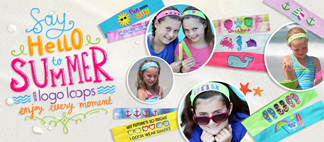 custom embroidered cotton/lycra stretch headbands as well as ready-made styles. Each headband is a quality product manufactured and embroidered in their own workshop. Girls happily wear "loops" as a fashion statement, sports accessory or team/school/camp spirit-building product. Whether she is wearing a customized loop or ready-made, she is telling the world that she's proud of where she belongs, who she is and what she likes! Visit the website at www.logo-loops.com.