Easter is three weeks away. Are you pondering what to put in your kids Easter baskets? Cute, and cuddly, stuffed animals are always a huge hit for Easter! Who doesn't love an Easter plush animal? Aurora World offers an extensive range of branded and licensed Easter stuffed animals for all ages.
Aurora Precious Moments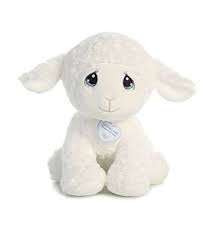 Precious Moments is known worldwide for its heartwarming figurines of teardrop-eyed children, created to convey messages of loving, caring and sharing. Precious Moments are now available as soft plush toys.
What could be more wonderful than a Precious Moments Luffie Lamb Stuffed Animal?White and plush, standing 12 inches tall he has floppy ears and a shy smile that will capture the hearts of children young and old.
I fell in love with him the moment I took him out the box! This delightful lamb is the ideal size for cuddling. He features embroidered eyes so there is no choking hazards for adolescent children. As far as girl or boy gift, I would say he makes a great gift for either gender.
Each style in the Aurora Precious Moments line has an inspiration tag that communicates their special message and name continuing the Precious Moments legacy. Make it a Precious Moments Easter by including Luffie Lamb in your gift giving. It is a fun way for collectors of Precious Moments figurines to share their love for the brand with their children or grandchildren.
Be sure to check out the complete Aurora Precious Moments line at shop.auroragift.com.
YooHoo & Friends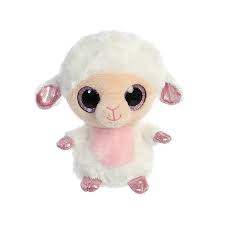 Nothing makes my daughter happier than a new plush toy. She loves the Yoo Hoo & Friends line and owns a few of the animals. Yoo Hoo & Friends are based on animals from around the world (many of which are rare and endangered).
The plush lamb measures about 5 inches tall and features enormous sparkly eyes, and sparkly-accented hooves and inner ears. As with all of the YooHoo & Friends stuffed animals by Aurora, Woolee the Stuffed Lamb is made from child safe materials.
Kids can interact with Woolee online at the YooHoo & Friends website, which features fun games and activities.
Miyoni – Lop Eared Bunny
The Miyonif line is a collection of realistic stuffed animals by Aurora! Miyoni stuffed animals are available in some of the most popular jungle and domestic animals as well as many North American animals. Released in 2012, the line continues to grow. Perfect for Easter, Aurora World's Miyoni Lop Eared Bunny plush animal features realistic characteristics and air brushed color detail. The rabbit is available in three sizes, 8 inches, 9 inches and 11. I can not get over how realistic the bunny looks. He is also super soft, which is perfect for cuddling. The bunny rabbit would make a great centerpiece for your Easter Basket.
If the bunny isn't for you, Aurora World has other Easter traditionally associated animals. A plush duckling, chick or a lamb would make a very cute basket addition. Any of these plush animals can also be given as an Stuffed Animals individual present. If your gift giving is aimed toward children, you can never go wrong with a plush Easter stuffed animal. Then again, even seniors would appreciate any of these Easter stuffed animals.

About Aurora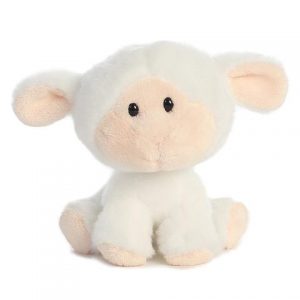 Aurora World, Inc. (www.auroragift.com) is a leading manufacturer and supplier of high quality, competitively priced plush toys and gifts. Aurora's name reflects its extensive product lines and growing influence in the worldwide marketplace, as well as its international manufacturing, R&D and distribution resources. Founded in 1981, the company has headquarters in Korea, United States, the United Kingdom and Hong Kong, and has ascended quickly to become a respected leader in the toy and gift industry. Aurora created the international plush toy phenomenon – YooHoo & Friends™ – and its corresponding free, interactive web site (www.yoohoofriends.com), appealing to young children and tweens alike. The company sells its products via a wide variety of retailers including major zoos, high-end toy stores such as Learning Express, top gift chains such as Hallmark and Claire's as well as hospital gift shops, fine florists, candy stores and gift/stationery stores worldwide.