Are you looking for a new game to play on Christmas eve? Might we suggest Oddly Obvious from Endless Games. The rules are simple enough that you can be up and running within a couple minutes.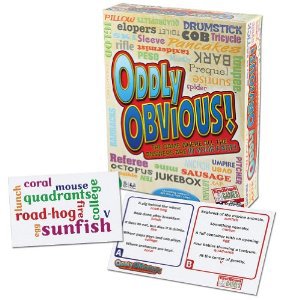 In each round one player takes on the role of host; drawing the cards and setting the backs in view of all players, who form up two teams.
Each card contains ten multi-colored words, some rotated vertically to be read up or down to add a little confusion to game play.
The host reads the appropriate clues one at a time, and the other players try to select the word on the front of the card that corresponds with the clue. For example, a clue could be: A cow with no legs is and the corresponding word is ground beef.
The first player to correctly shout out the correct answer earns a token. Play continues in this format until all five clues for the round have been read (and all five tokens have been won). When all five tokens have been handed out, the team with the majority of them wins the card. The first team to win five cards wins the game.
Oddly Obvious is a word-guessing game for three or more players, aged 12 and up. Oddly Obvious comes with five tokens, 196 game cards, and a card stand. The game is for three or more players.
Overall, Oddly Obvious is a blast to play! We love it and think you will too.
Founded by industry veterans Mike Gasser, Kevin McNulty and game inventor Brian Turtle, Endless Games specializes in games that offer classic entertainment and hours of fun at affordable prices. From ages 3 to 103, Endless Games offers card games, dice games, party games, word games, strategy games, trivia games, survey games, and pop culture games for everyone.
Website: endlessgames.com
NAME 5 GIVEAWAY
One lucky US Today's Woman reader is going to win the game Name 5. Name 5 is the outrageous new party game from Endless Games that asks the easy questions you know the answers to.
Name 5 party game from Endless Games Giveaway