Now is the time to update your health and skincare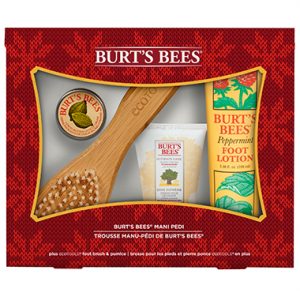 products to ensure that your skin is winter ready. Burt's Bees® has been offering distinctive natural health and beauty care products for over 25 years. Burt's Bees® 2016 Christmas Gift Collection is packed with Burt's Bees® time–tested must haves.
They have putted together a super-affordable range of holiday gifts. The collection consists of more than 15 Burt Bee Holiday Gift sets and the largest price tag is $22.99.
From a beekeeper's backyard in Maine to the leading edge of natural products, there really is something for everyone. The 'earth friendly' skincare range, loved by Emma Watson and Megan Fox, features beeswax, Shea butter and essential oils, and is free from
parabens and other harmful ingredients.
Burt's Bees Gift Sets
The kissable color gift set features a trio of their best selling lip shimmers. With this set you will always have the right color on hand.
The Burt's Bees mani pedi gift set features nourishing products for busy hands and feet. The set includes peppermint foot lotion, lemon butter cuticle cream, ultimate hand cream and a foot brush and pumice- the perfect tool to prep those toes.
For the holiday stocking why not give a bit of Burt's Bees with the the Vanilla Bean Lip Balm with Lemon Butter Cuticle Cream Mini. Another option is the Beeswax Bounty with contains 4 assorted Beeswax lip balms perfect for dry lips. You get vanilla bean, pomegranate, Beeswax and mango.
Whether it's a gift for a loved one or a personal pamper treat for yourself, why not 'give the gift of Burt's Bees?'
Website: burtsbees.ca